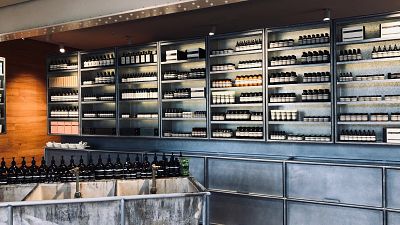 -
Brazilian cosmetics company Natura &Co, consisting of popular brands Natura, Aesop and The Body Shop, has pledged to take action against global warming.
The beauty giant recently joined the campaign 'Business Ambition for 1.5°C: Our Only Future', aiming to combat the global temperature rise to 1.5°C above pre-industrial levels. The cosmetic group is now committing to reaching net-zero emissions by the year 2050, alongside 28 other companies such as Unilever and Levi Strauss & Co, with a combined market value of £1 trillion say the UN.
"By sending strong market signals, these companies are showing Governments that they need to urgently ramp up their national plans in line with the latest climate science," said Ambassador Luis Alfonso de Alba, the UN Secretary-General's Special Envoy for the Climate Action Summit.
The skincare company took the decision in preparation for the imminent UN Climate Action Summit on 23rd September, which will "showcase a leap in collective national political ambition", according to the World Health Organisation. The news is also a welcome follow-up to the warnings of the Intergovernmental Panel on Climate Change (IPCC), who recently published a special report on the threats of a rise in the world's temperature. The report details that the Earth's warming could trigger dangerous weather such as high temperatures, a higher frequency of droughts and inevitable ice sheet instability, risking the lives of many arctic animals.
"We are facing a climate emergency - in fact, the record breaking temperatures which have had such an impact on millions of people suggest we are living in one today. We must act fast and plot a path to a zero carbon future," said Christopher Davis, International Director of Sustainability of The Body Shop.
What is Natura &Co's history of sustainable practices?
Natura &Co sells products all over the world, in 73 countries to be exact. The three brands that encompass the group, Natura Brazil, Aesop and The Body shop, state openly on their website that they have a "shared purpose and a common commitment to sustainable and ethical business practices." But how do they back this up?
Looking back at their history, each brand appears consistent in this philosophy ever since its inception. In 1983, Natura was the first cosmetics brand in Brazil to offer refill products, with the launch of a liquid soap 'Erva Doce'. Then in 1986, The Body Shop partnered with Greenpeace in the 'Save the Whales' activism campaign. In the years proceeding, the brands started to produce Fair Trade products, stood against and subsequently eliminated animal testing, and Natura began incorporating local ingredients into cosmetics to help preserve Brazilian biodiversity.
What do the experts say?
Natura &Co was certified as B Corp in 2013, meaning it has met the highest standards of verified social and environmental performance. We asked them to comment on this new pledge to combat the global temperature rise.
Kim Coupounas, Global Ambassador for B Lab, the non-profit organisation behind B Corp, applauded Natura &Co for taking the pledge as part of achieving the UN Sustainable Development Goals by 2030. She told Euronews Living she was "thrilled" to see companies "doing the hard work to take real action on the climate."
The President of Ecovia Intelligence, a specialist research company focusing on global ethical product industries, Amarjit Sahota, also praised the brand for its sustainable reputation. Sahota compared the pledge to similar initiatives by other brands, saying "Unilever has over 400 zero-waste (to landfill) manufacturing sites" and "L'Oreal has made similar pledges as part of its Beauty for All sustainability initiative." He concluded by saying that he believes "it is very possible" Natura &Co will achieve zero net emissions by 2050.