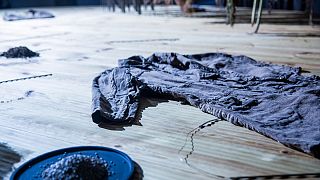 Romania had a well-established textile industry during the communist era. When the authoritarian regime fell in 1989, the country opened up to major (fast) fashion brands seduced by its cheap production prices. In a country now dominated by mass clothing manufacturing and with most of its local customers having a limited economic power, what chances have sustainable Romanian brands to find their way? Here are three examples in the making.
Patzaikin, the hemp initiative
Romanian Ivan Patzaichin is, with no doubt, a true champion. Born in a remote village of the Danube Delta, he became a professional athlete at 17. His career saw him win seven Olympic and 22 world championship medals for canoeing in the 1970's and 1980's. Now aged 69, Patzaichin developed a new passion: promoting his native Danube Delta while campaigning for slow tourism and sustainable food and fashion in the region.
In 2011 he founded Patzaikin, alongside business partner, Teodor Frolu, and fashion designer Olah Gyarfas. "Our fundamental idea was always to use authentic Romanian materials," Ivan Patzaichin explains. "We want to promote and revive what Romania used to be 30 years ago. Our country was the biggest exporter of hemp with a well-developed textile industry," he recalls.
Patzaikin's hemp collection will launch in Spring 2019 and clothes will be 95% 'made in Romania'. Hemp fibre is a highly durable material and the trio wants to make timeless collections, refusing to follow trends. "Everything that comes from tradition is sustainable, otherwise it wouldn't have survived over time. Returning to tradition for us isn't about only taking some decorative elements" explains Teodor Frolu. "Our brand is a nature-oriented designer label inspired by the relationship between humans and their environment. It's a style we call 'future vintage'. A forward-thinking design that you could wear anytime and for a long period of time", Frolu describes.
Gnana Studio, making new with old
Established in 2011 by former model Floriana Sandu, Gnana Studio, is an ethical and sustainable fashion label. Products are made with eco-friendly and recycled materials and locally woven textiles. Cotton and bamboo used in the collections come from antique shops or specialised warehouses and brought back to life via a transparent production process.
"We plead for a creative, comfortable, modern and functional design aesthetics with a low environmental impact. Consequently, we only work with small workshops, local producers and craftsmen to support the local community and economy," Floriana Sandu explains.
By recycling old materials, the designer says she saves huge amounts of water and the carbon footprint of her brand is reduced. "In Romania, the fashion market is not mature enough because of economic reasons. The sustainable segment is underdeveloped, so it's hard to survive only on the local market," Floriana Sandu says. Despite the difficulties, the brand increased its income by 107% during its second year of activity.
REDU, the upcycling heroes
REDU is a sustainable clothing brand from Eastern Romanian town Iasi that upcycles second-hand clothes. The project was developed as a solution against pre and post-consumer textile waste in Romania and is piloted by an NGO.
The brand recovers pre-loved materials and transforms them into utilitarian products thanks to a team of highly skilled designers with background in costume design and slow fashion. What's not transformed is sorted, cleaned and distributed to disadvantaged social groups or taken to a municipal collection centre.
"Unfortunately, even after four years, REDU is at the limit of existence. Every day is a challenge, just because we are in Romania. The market here is too little informed and often ignorant. Therefore, our work is primarily to bring to light the impact of the textile industry on the environment," says one of the designers.
Writer: Lorelei Mihala