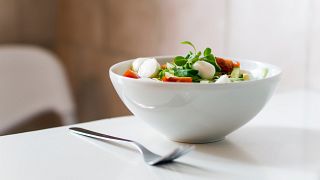 Copyright

Photo by Eszter Biró on Unsplash
The Campania region of Italy is considered to be the home of the best buffalo mozzarella. And among others, the love of Mozart can be the secret of producing the best mozzarella, according to a local farmer, who provides special treatment to his Italian Mediterranean buffalo herds.
The philosophy of farm owner Antonio Palmieri is simple: take care of your animals and they will take care of you. And since Mr Palmieri acquired the farm in the 70s, he has built up a system in which he provides his best to all of his 350 buffaloes living on the Vannulo organic farm about 100 kilometres south of Naples in the town of Capaccio Paestum.
Vannulo is one of the 272 buffalo breeding farms in Italy, 110 of them located in Campania where mozzarella production was started in the 12th century by Benedictine monks and has never stopped, currently accounting for 16 percent of local GDP.
Palmieri says the Vannulo barn measures 5,000 square meters and houses around 600 milking animals. They do everything on the premises from producing the fodder and the organic mozzarella to selling the latter.
And the result of the special treatment and classical music? Every day, 400 kilograms of mozzarella leave the farm shop by lunchtime, at 13 euros per kilo.
Click on the video above to learn how the buffalos are treated on the Vannulo organic farm.
Writer: Doloresz Katanich with AP