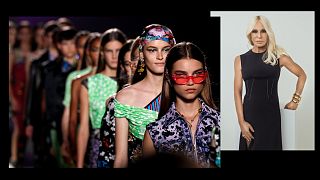 US fashion group Michael Kors Holdings Ltd has confirmed the acquisition of Italy's Versace.
According to their press statement, an agreement has been signed to acquire all of the outstanding shares of the Italian luxury fashion house for a total value of €1.83 billion
"This is a very exciting moment for Versace," said Donatella Versace, according to the press release. "It has been more than 20 years since I took over the company along with my brother Santo and daughter Allegra. I am proud that Versace remains very strong in both fashion and modern culture.(...)Allegra and I recognize that this next step will allow Versace to reach its full potential."
The Italian fashion icon has been considering a market listing after US private equity group Blackstone bought a 20 per cent stake back in 2014 to fund overseas expansion.
According to the statement, increasing the number of retail stores globally from approximately 200 to 300 is among the long-term goals, as well as growing the global revenues and accelerating e-commerce development.
Michael Kors has bought several fashion labels recently, including the London shoemaker Jimmy Choo for just over a billion euros.
Michael Kors Holdings Ltd has just announced it will be renamed Capri Holdings Limited.