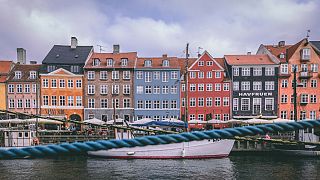 Denmark has long been heralded as a design capital. Known for its minimalist style and its relaxed way of life, Copenhagen is consistently ranked as one of the world's best cities to live in.
In this interactive 360-degree experience, five Copenhageners show you their homes and explain how they have chosen to live.
Do you want to have a closer look at life on a houseboat? What about in Copenhagen's oldest student collective? Or perhaps in a 300m2 apartment in the city's well-to-do district Østerbro?
_Open the 360-degree experience by clicking the start button below. The experience can take up to a minute to load and it works best with a Google Chrome browser. Click the googles in the bottom right corner to enter full-screen mode. _
Do you want to explore more unique homes in 360 degrees?
Then take a look at Euronews' coverage of the infamous Christiania district in Copenhagen.
In this experience you can explore the self-governing, drug-dealing district on your own and visit the quirky home of Kirsten Jensen, a typical Christianite.
The art of living Danish has been produced for the Fader consortium (Euronews, Deutsche Welle and Vragments) with funds from the Digital News Initiative.