Discover Christiania: the self-governing, drug-dealing Copenhagen district in conflict with authorities
Comments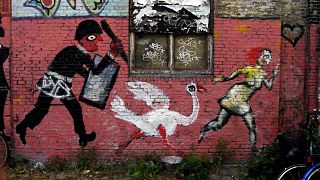 From the window of her large, yellow brick house located in the center of Copenhagen, Kirsten Larsen Mhoja has a beautiful view of the sea.
"It's great to live here, it really is," she says. "But we have to fight for it."
The fight unites the residents of the Christiania district, who want to stay in this sought-after space, an option that's otherwise only available to well-off inhabitants of the Danish capital.
Larsen Mhoja is a retiree and a tour guide, and she has been a welfare recipient most of her working life. But she has managed to find a home in controversial Christiania.
In Christiania, residents can rent a house for a fraction of the price that the housing market otherwise dictates. But it is very difficult for ordinary citizens to move to Christiania. The district only has about 900 residents, and when people move in they tend to stay put. Larsen Mhoja has lived in her house since 1980 and has no plans to leave. 
"This place is like a village, we take care of each other. There is a sense of security here, that you normally don't have in a big city," she explains. "I couldn't imagine living anywhere else."
But some politicians are critical of the self-governing free town. Some see the profits that could be made if the area was developed, while others claim that the district is insular and closed-off from the rest of the Danish population, who can only dream of living in such surroundings.
Discover Christiania in 360
Hover in for a 360-degree experience — with Larsen Mhoja as your guide.
Illegal drugs — and Denmark's popular tourist attraction
On 26 January two people died when a fire burned an apartment in Christiania. Danish police are investigating the incident as murder, marking another low point in the long story of violence in Christiania.
Physical violence is often connected to the infamous Pusher Street, where an abundance of dealers sell hash from small stalls. The lucrative drug trade has always been a source of conflict, and even killings, between inhabitants, rivaling gangs, and the police. There have also been reports of attacks on tourists who took pictures of  drug dealers.
At the same time, VisitCopenhagen, the official tourism organization of Copenhagen, estimates that Christiania is one of the most popular Danish tourist attractions. The do-it-yourself look of the housing, vibrant art scene, and beautiful nature has turned the hippie neighborhood into a place unlike anything else in Copenhagen.
Do you want to see how a real Christianite lives? 
Larsen Mhoja invites you to explore the old power storehouse, which she has called home since 1980. It may lack bathroom facilities and electric heating, but it has plenty of charm.
These VR experiences in Christiania have been produced by Ole Krogsgaard, as part of a consortium between Euronews, the German startup Vragments GmbH, and the innovation team of Deutsche Welle to build Fader, a VR storytelling platform.