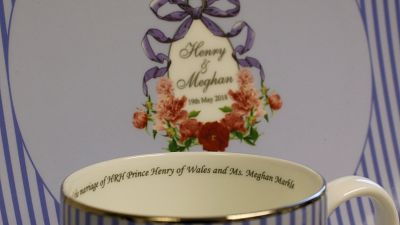 As the excitement builds around the upcoming wedding of Britain's Prince Harry and his American fiancee Meghan Markle, clay casters and gilders at British luxury gift manufacturer Halcyon Days are producing for the Royal collection again. The artisans at the factory have created a number of commemorative collections already.
"In some ways, it's a normal day in the office but we also realise, you know, what we are producing is for the Royal collection. So we're quite proud of it," said Steve Mason who has been a caster for 49 years.
The ceramics factory in Stoke-on-Trent has been in the business of royal merchandising for some 70 years. The firm is one of only fourteen to hold royal warrants - a certificate for providing goods and services to the royal households - from the queen, her husband Prince Philip and heir-to-the-throne Prince Charles.
Halcyon Days expects its sales to receive a boost of between 10 to 15 percent as a result of the Royal wedding.
The event, set for May 19 in St. George's Chapel at Windsor Castle, is estimated to add up to one billion pounds (€ 1.14 billion) to the UK economy.
Writer: Doloresz Katanich with Reuters