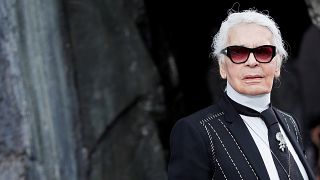 Copyright

REUTERS/Gonzalo Fuentes
Karl Lagerfeld sent out his latest Haute Couture collection for Chanel in Paris' Grand Palais on Tuesday (January 23). He commissioned a formal garden of terraces and lawns around an imposing fountain in the Grand Palais for its Paris show.
Lagerfeld's latest collection was made of fresh and pastel tones, some Chanel classics and a special bride's dress.
He is said he wanted "French fantasy and French lightness" after the monochromatic collection for Chanel's Metiers d'Art line, he presented six weeks ago in Hamburg.
Aside from real roses blossoming on trellises, the guests were treated to embroidered flowers and a voluminous 50s-inspired skirt painted with watercolours and cinched at the waist with a vivid magenta belt.
The looks were layered: a dusky pink silk minidress topped with a sheer pink overlay, trimmed with feathers and a green embroidered dress with a sheer outer layer tumbling from the waist.
Fashion week for Haute Couture - the exclusive club of designers creating luxury, handmade outfits for clients - continued all week.