We sit down with the Italian collector, minutes before the opening of the new exhibition 'Like a moth to a flame' shown in Turin this November.
She has been collecting contemporary art and jewellery since the early nineties and has become a prominent figure of the art industry internationally. On Saturday, Patrizia Sandretto Re Rebaudengo opens a new major exhibition in Turin, Italy, spread across several cultural institutions in the city, and titled Like a moth to a flame. She sits down with Living it to discuss celebrating 25 years of her Collection and shares with us why Turin is such a great art tourism hot spot.
What sparked the project Like a moth to a flame?
"The project grew out from my personal relationship with Tom Eccles, Executive Director of the Center for Curatorial Studies at Bard College in New York, of which I am a member of the board of governors, and Mark Rappolt, editor of Art Review. They were both participating to the Symposium that my foundation organized in May last year within our Young Curators Residency Programme and regarding curatorial practices. We were talking about my Collection celebrating its 25th anniversary in 2017, and this anniversary appeared as a good opportunity for imagining a shared project. We agreed that they would curate a grand exhibition of my collection".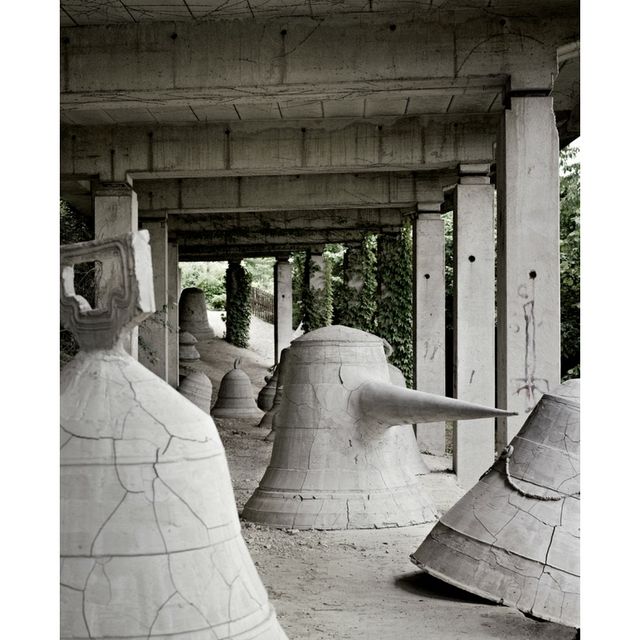 Adriàn Villar Rojas, Return to the world (bells & boat), 2012, Clay (unfired), cement, wood, metal (installation view), photo by Baumann Fotografie Frankfurt a.m. Photo courtesy of the artist, kurimanzutto, Mexico City. Fondazione Sandretto Re Rebaudengo Collection.
What is the topic of the exhibition?
"Tom and Mark were fascinated by Turin, its museums and its tradition of "collectionism". They started visiting all the museums:Egyptian Museum, Palazzo Madama, Museum of Oriental Art, National Cinema Museum… and reflecting on how important private collections have been for Turin's history".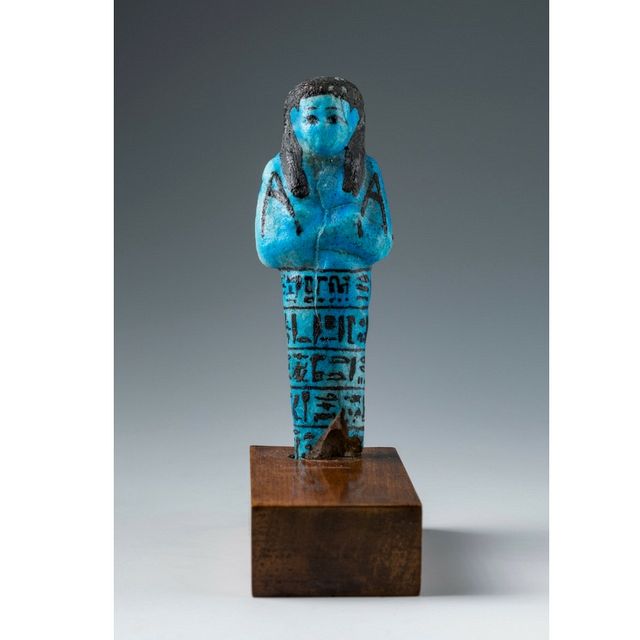 Mummiform Ushabti, Third Intermediate Period / XXI-XXIV Dynasty (1070-712 BC) Faïence ceramic, blue with black inscriptions. Courtesy of Museo Egizio.
"Like a moth to a flame talks about the compulsion to create and to collect works of art, through time and space. This is seen through the city of Turin, with its long tradition of both private and institutional collections, spanning from the Ancient Egypt to the Far East to the Middle Ages and Renaissance till the contemporary."
How exactly does this "collectionism" express itself?
"Many of Turin's museum collections were developed from ancient private collections, both royal and commoner. The Egyptian Museum, for example, was set up on an original nucleus of works that had been collected by Bernardino Drovetti, who sold his collection to the king Carlo Felice di Savoia in 1824. The GAM re-opened after the World War II in 1959 with an exhibition of modern art masterpieces from private collections."
Where does the title of the exhibition comes from?
"The exhibition's title originates from a work by Cerith Wyn Evans that belongs to the Fondazione Sandretto Re Rebaudengo: a chandelier with circular text a neon light that says In girum imus nocte et consumimur igni (2006). The title of the work is a palindrome, which is a sentence you can read similarly backward and forward and means the same thing either way. The sentence contains a riddle that says "what goes around at night and is consumed by flames?". A possible solution is… a moth."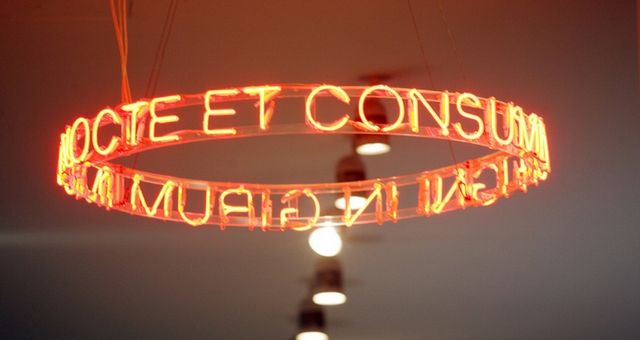 Cerith Wyn Evans, In Girum Imus Nocte et Consumimur Igni, 1999, Courtesy Fondazione Sandretto Re Rebaudengo.
What are the highlights of the exhibition?
"At the Fondazione, we show Hito Steyerl's Factory of the Sun, an immersive installation reflecting on the current effects of technology on our lives. I am also very excited to show one of the most recent acquisitions of the collection, which is a work by Tino Seghal titled This You. It will be performed by our mediators and consists in a sung dedication to each visitor. We will also show an ancient sculpture from MAO and a work from the Castello di Rivoli".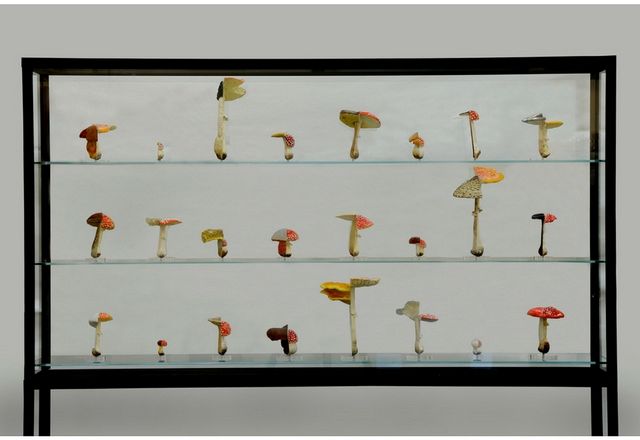 Carsten Holler, Doppelpilzvitrine (24 Doppelpilze), 2009, 24 mushroom replicas, polyurethane and acrylic, glass showcase, 175 × 145 × 25 cm. Photographic credit: Studio Gonella 2009. Courtesy of Fondazione per l'Arte Moderna e Contemporanea CRT
"At the OGR – Officine Grandi Riparazioni, opened this September – there will be a dialogue between antique artifacts and contemporary works. The Egyptian Museum lent one Sekhmet statue and a Tuthmosis monumental head. We will also be showing a selection of my costume jewellery collection, presented inside a vitrine designed by Gio Ponti."
What does Like a Moth to a Flame represent in your collectors' journey celebrating 25 years in 2017?
"I always appreciate when my Collection is seen and interpreted through the eyes of different curators, who are able to create new narratives, new points of view. This is why my Collection travels around the world, having been presented inside and outside Europe. At the moment, part of it is exhibited in Trondheim and in March 2018 another body of work will be presented at RAM Museum in Shanghai. Like a Moth to a Flame, exhibit 39 works from my Collection. I especially appreciate the way the curatorial approach of the exhibition connects the international dimension of my Collection to the local roots of Turin, a city that remains very important and continues to be inspiring for me."
In your opinion, what makes Turin an interesting destination for art tourism?
"The Egyptian Museum, Palazzo Madama, Galleria Sabauda, the National Cinema Museum are a few of the museums to visit. The strong focus on contemporary art, that the city traditionally shows and that formed the ecosystem in which the Arte Povera movement grew in the Sixties, is witnessed by the presence of institutions like Fondazione Sandretto Re Rebaudengo, Castello di Rivoli, Gam, Fondazione Merz and the newly born OGR, among others. A network of quality art galleries and specialized craftsmen makes Turin a good place to live and to work for many artists".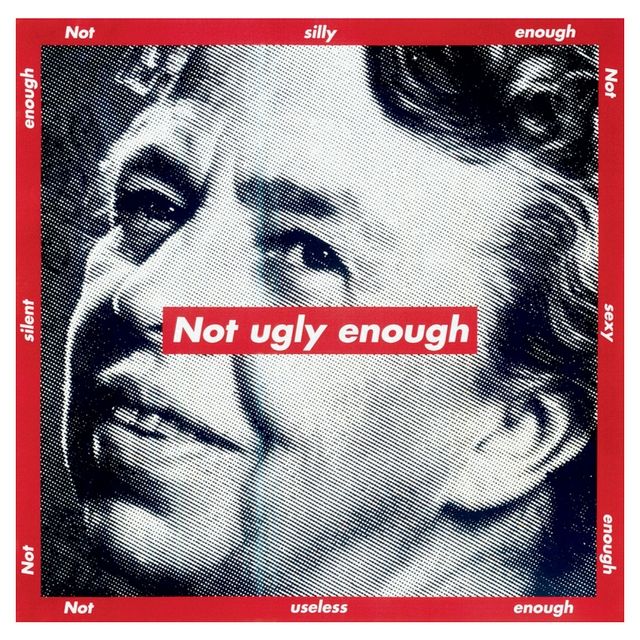 Barbara Kruger, Untitled (Not ugly enough), 1997, silk-screen printing on vinyl. Courtesy of Collezione Sandretto Re Rebaudengo
"At the same time, the proximity to the Langhe and the Monferrato, UNESCO World Heritage Site, with their famous food (white truffle above all) and wines (Barolo and Barbaresco) and the town's historic cafés, trendy bars, ice-cream parlours, patisseries, restaurants, and chocolatiers make Turin a very enjoyable city for tourism in general".
Which artists – from Turin, Italy and abroad – are you particularly excited about at the moment?
"Among the younger generation of artists in Turin I would mention Ludovica Carbotta, Manuele Cerutti, Marzia Migliora and Alis Filliol. In Italy, I particularly appreciate the work of Yuri Ancarani, Tomaso De Luca, Pietro Roccasalva, Elena Mazzi, Meris Angioletti on top of more established ones like Roberto Cuoghi and Paola Pivi. Outside Italy, more recently, I have been collaborating with, commissioning or acquiring the work of Ed Atkins, Ian Cheng, Rachel Rose, Guan Xiao, Andra Ursuta, Alicia Kwade, Sanya Kantarosky – whose solo show at the Fondazione is opening on November 3rd, together with Like a Moth to a Flame".
Like a Moth to a Flame at Fondazione Sandretto Re Rebaudengo and OGR, Turin from 4 November 2017 – 14 January 2018
Header Picture: Patrizia Sandretto Re Rebaudengo. Photo: Stefano Sciuto. Courtesy Fondazione Sandretto Re Rebudengo