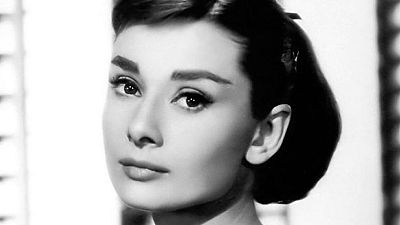 Film scripts, dresses and other treasures from late film legend Audrey Hepburn's attic in Switzerland are going up for sale in London.
"My mother kept it in the attic, quite literally," – Hepburn's son Luca Dotti said at a viewing of the more than 500 lots at Christie's auction house in London.
"My mother was not a collector but she kept every little bits and pieces for sentimental reasons".
Une vente aux enchères spéciale #AudreyHepburn organisée à #Londres >>https://t.co/MLQ0lijkAmpic.twitter.com/rK5L22vUXR

— Madame Figaro (@Madamefigaro) 25 septembre 2017
What kind of things are in the auction?
All kinds. For example, an array of luggage includes a battered, black-lacquered suitcase Hepburn is believed to have arrived in London with to take up a ballet scholarship in 1948, before she became one of the world's most famous actresses.
Audrey Hepburn photographed in a promotional shoot for Breakfast at Tiffany's, 1961 pic.twitter.com/OzPq9ihzA7

— Audrey Hepburn (@SoAudreyHepburn) 20 septembre 2017
The working script for the 1961 film "Breakfast at Tiffany's", including deleted scenes, is another rarity being sold. There are numerous other sripts featuring Hepburn's handwritten notes.
Glamourous dresses by designers including Givenchy and Valentino have been put on display alongside playful clothing including a 1964 Spanish matador outfit.
Who was Audrey Hepburn?
Born in Belgium in 1929, she moved to the Netherlands with her family after the outbreak of the Second World War.
They went hungry for months during the way while on the run from Nazi troops.
When did she make her film debut?
In 1948. Hepburn played an air stewardess in Dutch in "Seven Lessons", an educational travel film. She moved to London later that year to seek her fortune.
She had her first starring role in Roman Holiday, playing a European princess who falls in love with Gregory Peck, who plays an American journalist.
What about her personal life?
She married American actor Mel Ferrer in 1954.
They divorced in 1968, the same year she met her second husband, Italian psychiatrist Andrea Dotti.
Hepburn died in Switzerland in 1993 at the age of 63.
Audrey Hepburn and Mel Ferrer photographed by Marc Riboud at a Christian Dior show, Paris, 1959 pic.twitter.com/fIDke84E1V

— Audrey Hepburn (@SoAudreyHepburn) 25 septembre 2017