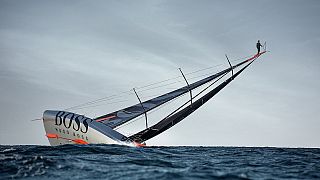 Alex Thomson finished 2nd on the last Vendée Globe, the sailing race in solo around the globe without stop or assistance, and is tipped to be the next winner. Living it takes the sails with the skipper to get an idea of what it takes to spend 2 months in complete isolation in the middle of the ocean, and discuss life goals, bespoke boats and cheeseburgers.
On his daily life during the race…
"No two days are the same. It is relentless. You are out there on your own, living a constant battle against all the elements and it is an endurance test both physically and mentally. I needed to consume around 7,000 calories a day to make up for all the physical work and extreme temperatures".
On his racing diet…
"My daily diet was an assortment of freeze-dried food. I had about six or seven different types on board, as well as peanuts, energy bars and anything else light and easy to snack on. As you can imagine, it used to get really repetitive eating this every day but it was important to keep my calorie intake up. Boring or not, all the food did get eaten. I had a few little luxuries. I took five small Christmas cakes and I did have a couple of tinned cheeseburgers on board!"
On his physical training before the race…
"I spend about ten hours in the gym doing strength work to prepare in the lead up to the event, as well as cardio training on a bike. Most of the work done in the race is with my upper body: in very confined spaces dragging sails that weigh between 80 and 100 kilos without being able to stand. So by the end, I had lost most of the muscle mass in my legs through lack of use".
On sailing alone…
"Being away from my family never gets any easier. My wife Kate is extremely supportive but I miss her and my children immensely while I am away. That being said, it's hard to complain when I get to sail a boat designed especially for me and have Hugo Boss as my sponsor".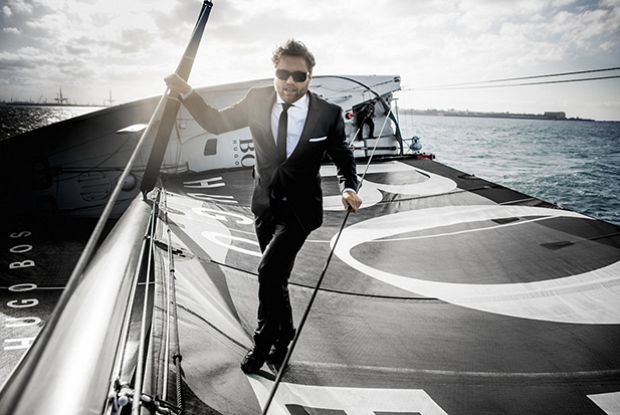 "I always say that it's the equivalent of a car lover getting to build a custom-racing machine. The boat has been completely designed for my specific needs and when it comes to boy toys it doesn't get any better than that!"
On his life after the race…
"In the days after the race it is all about spending time with my family, enjoying some much needed rest and tucking into some real food! Aside from sailing, kitesurfing is my other passion. I was able to combine my two favourite sports last year with the 'skywalk' stunt, which was really exciting, and I've recently started teaching my son Oscar how to kite surf too!"
On his mental strength…
"A good friend and mentor to me, Sir Robin Knox-Johnston told me that 'to finish first, first you have to finish', which has stayed with me ever since. Particularly during this most recent race when things got tough. I am also extremely competitive which is why the Vendee Globe is the race for me, I don't give up easily".
On his future projects…
"I've finished third and then second in the Vendée Globe. If we can put the right sponsorship to create a competitive campaign I would love to take part in the next race and win this time around. Before all that though I will be taking some time off and heading away with my family for a holiday sailing around the Caribbean with Dream Yacht Charters!"
Discover more modern explorers on Living it. If adventure is your daily job and you wish to share your incredible life experiences, simply find us on social media and use our hashtag #livingitluxe to be featured on the website
.