Steve Calder is a 27-year-old tailor and entrepreneur based in Melbourne, Australia.
Steve Calder is a 27-year-old tailor and entrepreneur based in Melbourne, Australia. He first caught our eyes on Instagram (@stevecalder) for embodying the ideal of a contemporary gentleman dandy, able to wear a suit and casual wear outfit with equal ease and elegance. His passion for and knowledge of well-fitted clothing and sustainable materials makes him a genuine expert in menswear. Living it chats with him to discover more about his growing business of made-to-measure suits.
Where do you come from?
"I was born in New Zealand and moved to Melbourne with my family when I was 12. I was raised in the outer suburbs, a good Christian boy who loved playing computer games and music. I even did a stint as the lead singer in a pop-rock band! I began working as soon as I could, around 14. By the time I graduated high school I was working full time selling men's clothing at the nearby shopping centre. I never had the intention of studying at university as I felt traditional schooling never really suited me. So, instead, like many other kids my age, I rebelled and spent my late teens working, partying and enjoying life".
How did you start your own business?
"After a bit of soul-searching and self-education, I realised that I had a strong passion in helping people and found myself channelling that through my occupation: helping guys to dress better and in turn helping them feel more confident in their day-to-day life. Deep down I always knew I needed to follow my passion and be my own boss. After considering and trying many different avenues including a blog and even an online business selling baby clothing. In early 2015, I began to form my plan".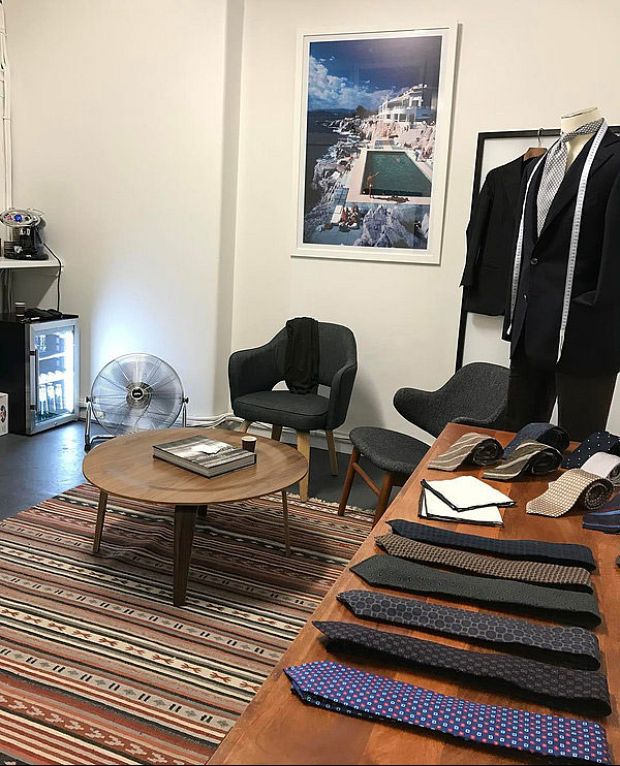 The Calder Showroom in the Nicholas Building, Melbourne.
"The aesthetic was to be very relaxed, full of personality, though still in keeping with a classic mindset. The aesthetic and lifestyle that resonated with me the most came from the Neapolitan way of life. I sought out a few well-known and lesser-known makers online and through friends. I launched the business in March 2016 operating out of a friend's barbershop, and focusing on Instagram and word of mouth, slowly growing the brand into what it is today".
Who is the Calder Man?
"The Calder Man is usually either a young professional or business owner who is comfortable living for himself and nobody else. He appreciates and seeks out quality garments, cars, whisky and cigars for his own enjoyment – and does not concern himself with hype, trends or brands".
What do you offer for him?
"My suits are made-to-measure in Naples, Italy, by true artisans who have been perfecting their craft for generations. Every Calder Suit features a very high amount of work by hand, and is beautifully cut to shape the male body in the best way. The fabrics I use are only the best, and I specifically have chosen to work with smaller family-owned fabric merchants over big wealthy manufacturers. My designs exude the right balance of nonchalance, masculinity and professionalism".
Where are you heading next?
"I will be travelling to Italy to attend Pitti Uomo, meet new contacts and visit my Neapolitan workshop. In my showroom I have already brought in Viola Milano, AARCH Gloves and TBD Eyewear, and look forward to growing my range further in the coming months. I will also be exploring the idea of making my range accessible to the European market, so… Keep your eyes open for more news!"
Steve Calder is a Living it luxury insider from Australia. You can read here his definition of true style and how to achieve it five steps. If you wish to share yours, find us on social media using our hashtag #livingitluxe to be featured.