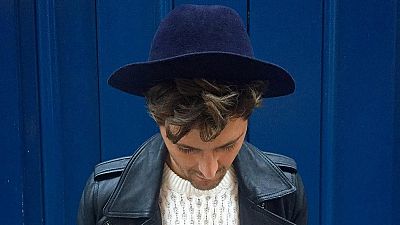 David Bellamy (@bellamy_david) is a French influencer based in Versailles noticeable for his endless positive energy. His vibrant Instagram account shows a passion for smart colour combinations, nicely curated fashion, and has managed to attract luxury brands such as Balenciaga and De Fursac. Follow him as he takes a tour of the French capital for Living it.
Where is the best place to take a selfie in Paris?
The best place to take a selfie in Paris is in this open-air basketball court near Pigalle called 'Playground Duperré', designed by III-Studio. I love playing with the colours there.
Where do you take the ultimate food picture in Paris?
I would say whilst brunching at Foyer de Chaillot restaurant, inside the Palais de Chaillot near Trocadéro. A truly amazing food experience created by Maison Pradier offering seasonal and local dishes made on the spot – with a view over the Eiffel Tower nonetheless.
What is the best door to pose in front of in Paris?
This particular blue door, rue des Rosiers in the Marais is an old time favourite. It matches a lot of the styles I showcase on my Instagram. In general, I just pose in front of a colour I am not wearing that day.
What is the best Parisian interior design to take a picture of?
The hotel OFF Paris Seine moored near the Austerlitz area is beautiful and very contemporary. Set between the left bank and the right bank, it is the only bar and hotel on water in Paris. I particularly love spending time there in the summer.
David Bellamy Paris Guide:
If you are a globe-trotter and wishes to share some travel tips, incredible lifestyle stories and invite us to virtually visit hidden gems in your city, simply follow Living it on social media and use our hashtag #livingitluxe in the caption of one picture to be featured.