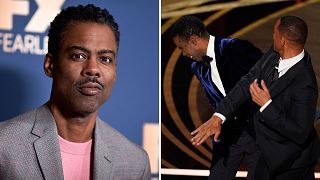 We all remember the moment when Will Smith slapped fellow actor Chris Rock across the face on stage at last year's Oscars, after he'd made a joke about Smith's wife's bald head.
Now a year after the incident and with the Oscars returning this weekend, Rock has finally broken his silence in a stand-up special streamed live on Netflix, in which the comedian brags that he "took that hit like Pacquiao." 
While Smith has apologised and repeatedly spoken about the incident since last March, Rock has avoided all the usual platforms where celebrities often go to air their grievances. 
The 58-year-old comedian, performing in all white and with a Prince medallion around his neck, immediately touched on last year's Oscars while riffing on "wokeness," hypersensitivity and what he called "selective outrage."
"You know what people say, they say, 'words hurt,'" said Rock. "Anybody who say words hurt has never been punched in the face."
The show, titled 'Chris Rock: Selective Outrage', was streamed live from the Hippodrome Theatre in Baltimore and marked Netflix's first foray into live streaming. 
Rock explored a series of wide-ranging topics examining contemporary issues, including virtue signalling, high-priced yoga pants, the Duchess of Sussex, the Kardashians, abortion rights, the Capitol riot and what he called America's biggest addiction: Attention.
"Like, who is this girl Meghan Markle?" Rock said addressing the Duchess of Sussex, adding: "Seems like a nice lady – just complaining. Like didn't she hit the light-skinned lottery?"
An hour into his set, Rock closed the special with a torrent of material about the infamous Academy Awards moment.
"You all know what happened to me, getting smacked by Suge Smith. Everybody knows," Rock said, using a play on words with the name Suge Knight, the former CEO of Death Row Records who was sentenced to 28 years in prison in September 2018 for manslaughter.
Referring to Smith's 1991 single, he added, "It still hurts. I got 'Summertime' ringing in my ears."
Rock also revealed he'd been watching the 2022 slavery drama Emancipation just to see Smith "get whooped," cheering "hit him again" and "you missed a spot."
Ultimately, Rock suggested he was just caught in the crossfire in Smith's relationship with his wife, Jada Pinkett Smith. 
The comedian on Saturday referenced Pinkett Smith's earlier confessions of having an "entanglement" with another man while married.
"We've all been cheated on, everybody in here been cheated on, none of us have ever been interviewed by the person that cheated on us on television," Rock joked. "She hurt him way more than he hurt me."