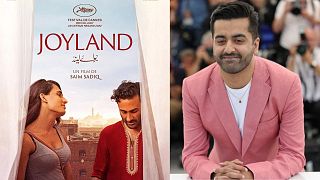 -
Copyright

All in Caps Productions - AFP
One Pakistani screenwriter and director made a huge impact on the 75th Cannes Film Festival last year. Saim Sadiq presented Joyland and left the Croisette with two main prizes: the Jury Prize of the Un Certain Regard section and the Queer Palm award. 
Not too shabby for the first Pakistani film to be selected at the prestigious French festival. But beyond accolades, the film addresses some topics that makes it a vital watch. 
"Trans people are very visible in Pakistani society - particularly in Lahore where I grew up," Sadiq tells Euronews Culture. "When you go for a drive... Unfortunately, see you a lot of them begging at the traffic lights."
It was those interactions that inspired Saim Sadiq to make his first feature film. Joyland premiered to a standing ovation, and since then, it went on to become the first Pakistani film to be shortlisted for the Oscars' Best International Feature Film category.
Set in the conservative city of Lahore and following the Rana family, the film is described as a "de-romanticization of a coming-of-age tale and a homage to all the women, men, and trans people who pay the human cost of patriarchy."
The film chronicles how imposing disabled patriarch Rana Amanullah (Salman Peerzada) struggles with the humiliation of his diminishing capacities. He commands respect while driving the burden of heavy expectations on his young family. His two sons and their wives live in a joint family household. The older son Saleem (Sohail Sameer) is a quintessential, alpha male in contrast to his younger dutiful brother Haider (Ali Junejo), who spends his time fulfilling duties at home, running errands, and doing chores while looking after his two nieces.
Meanwhile, his ambitious wife Mumtaz (Rasti Farooq) thrives in her career working as a beautician. She dreams of buying the family the ultimate luxury item: an air-conditioner.
Deeply emasculated and frustrated with failing to live up to his father's expectations, the young Haider lands an unconventional job to bring home the bacon. He secretly joins a dance troupe for a theatre production, and that is where he meets the ambitious starlet, Biba (Alina Khan). Before long, he is engulfed in a rapturous desire for the transgender dancer.
The CIS transgender debate has dominated headlines of late and polarised the Twitter-sphere in the West.
Culture wars are proving instrumental in influencing language, with the use of gender pronouns and the introduction of new vocabulary including words like 'wokeism' and 'cancelled'. Award ceremonies are dropping gender categories. Society is learning to adapt.
But for a country like Pakistan, the issue has raged for decades and is palpably divisive.
The transgender community, known as 'Khwaja Sira', is not afforded a seat at the table of mainstream society. Marginalised and often ridiculed, they are perpetually shunned to the fringes of society. Transgender individuals are disenfranchised due to the negative social stigma they endure, and many are destitute and desperate to make a living. Some are forced to take on sex work and dancing jobs.
Saim Sadiq, developed his trans protagonist Biba while working for an NGO that helps the trans community in Lahore. 
"I would sit and converse with them, document their lived experiences. I took whatever I could of their emotional truth, which informed the politics of the film."
Despite the omission of the intimate scenes that would have certainly caused a furore, the film was initially banned in cinemas nationwide. The decision was eventually reversed, bar one province, Punjab - where the film is set.
When asked  if the international acclaim of Joyland may have helped to build a bridge for Pakistan's trans community, Sadiq replies that it's "a tough bridge to create". He adds that the misogynistic, transphobic and homophobic views were heightened when people saw it.
"All the attacks were very hateful and bigoted," he shares.
"I give my actors a lot of credit for having the courage to play these parts. Fortunately they weren't put in any dangerous situations despite conversations surrounding the film getting very heated."
Conceiving Joyland also helped Sadiq grapple with the struggles of his own sexuality. 
"On a personal level it has been a cathartic process," he shares. "Instead of continually marinating in my trauma, Joyland helped to broaden my perspectives. It has been a lifesaver to me."
Sadiq may be a relative newcomer to the industry, but his work is gaining traction on an international level and has been described as stylistically echoing celebrated filmmaker Pedro Almodovar. Like the Spanish provocateur, Sadiq dares to explore unconventional depictions of forbidden desire unshackled from gender limitations. His characters navigate their path in an unforgiving world yearning for a life beyond stereotypical norms.
Sadiq describes Joyland as a "heartbroken love letter to my homeland" and he indulges in the tantalising tug-of-war between desire and morality by daring to take on a taboo subject that is rarely portrayed in Pakistani films.
Although Sadiq's cinematic legacy may have just begun, his debut film has already started a much needed conversation that has been long overdue.
Since its premiere in Cannes last year, Joyland has graced the screens at various festivals around the world, including Toronto International Film Festival, Zurich Festival, BFI London Film Festival, Brisbane Film Festival and AFI Fest in the US.
The film was released in cinemas in UK and Ireland end of February and it continues its European theatrical rollout in the coming months, including presentations at Borderlines Film Festival this week in the UK, Roze Filmdagen in the Netherlands, leading up to a theatrical release in the US late April.