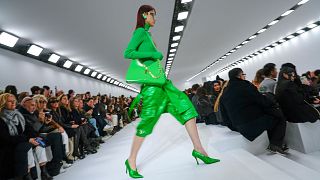 Get ready to be dazzled and inspired because we're diving into the latest highlights from Paris Fashion Week! 
The fashion extravaganza kicked off on Wednesday and promised a seven-day schedule of shows from the world's most high-end designers to up-and-coming emerging talents.
From glamorous couture to Givenchy's eco-tanning and Renaissance-inspired art, the French capital's final trends for fall-winter 2023-2024 have not disappointed so far. 
So sit back, relax, and let's take a stylish stroll through the world of Parisian high fashion!
Givenchy gets feminine
Matthew M. Williams showcased his Fall collection for Givenchy at Paris Fashion Week, incorporating the house's elegance in his designs. 
The collection moved towards a more fluid and feminine direction, while still maintaining subtle contrasts with menswear tailoring. 
But the real showstopper was Williams' use of archive pieces. The fish motif, created by Givenchy's founder, made a dazzling appearance, while the famed atelier created multiple couture garments, including shimmering metal dresses and off-kilter dropped or raised waist evening gowns
And let's not forget about the star-studded audience. Jared Leto couldn't contain his excitement, exclaiming "Genius! Parfait! Beautiful. The best! And you can quote me." We couldn't agree more, Jared!
Rick Owen's Doughnuts
Rick Owens' Fall collection was inspired by ancient Egypt and the Ukraine war. The designer aimed for a respectful formality and sobriety with delicate moments. 
The collection features slashed gowns, draped asymmetrically to reveal bare skin in black and disco sheen. 
A gargantuan inflated doughnut shape was a highlight of the collection, appearing on the shoulder or front of garments. 
Owens also deserves praise for his eco-efforts. The leather in this collection was prepared through "veg tanning," meaning that only vegetal and natural tannins were used in the process of tanning and preserving the leather.
Balmain's 80s sparkle
VIPs such as Jessica Alba negotiated screaming crowds outside Le Carreau du Temple to enter Balmain's world of calm, wafting perfume and champagne-serving waiters.
This fall, Olivier Rousteing channelled his disco ball realness for an infectious collection - featuring all-pearl shades, iridescent archive bell-skirt dresses and blinding crystal-embellished jackets that unfurled like flowers.
The designer said he was inspired by the "New French Style," attributed to house founder Pierre Balmain, with the collection's glamorous post-war styles, flying saucer hats, nipped waists and bell silhouettes.
Ukrainian designer pays homage to her country
Ukrainian designer Lila Litkovska made a statement about the war in her country with a show at Paris Fashion Week. 
Titled "On air," the show was a metaphor for the unpredictable way life in Ukraine is unfolding by the minute. 
Litkovska fled to Paris with her 2-year-old daughter when Russian missiles started pounding Kyiv in February 2022. 
By organizing activist fashion events with other Ukrainian designers over the last year, she has raised about €50,000 ($53,000) that has gone toward buying medicine, as well as to supporting Kyiv's biggest children's hospital and the armed forces.
Dior channels rebellious women
Dior's Paris Fashion Week show was awash with colour and creativity as the fashion house unveiled a fantastical world of organic forms and artisanal savoir-faire. 
Guests were wowed by the spectacular installation, which was a cross between a giant octopus and a disco ball, covered in thousands of twinkling lights. 
Paparazzi snapped away at the likes of Elle Macpherson, K-pop star Jisoo, and actresses Maisie Williams and Charlize Theron, who all looked as though they'd stepped straight off the runway.
Designer Maria Grazia Chiuri took inspiration from the past, channelling the rebellious spirit of Christian Dior's sister, French resistance hero Catherine Dior, and French singers Edith Piaf and Juliette Greco. 
The collection oozed vintage charm, with faded leather, crumpled houndstooth, and woollen socks adding a touch of post-war nostalgia.
Mame Kurogouchi, Past and Future
The Japanese ready-to-wear brand of Mame Kurogouchi delves edgily between past and present, mixing traditional dressmaking with new technologies.
This was on full display at fall's minimalist take on the 80s - as far as a decade that exuberant can be minimalist.
A grey pantsuit with crisp clean lines had a futuristic feel with a diagonal dynamic. A black scarf that gripped the neck like a hand tugged down the shoulder, complementing a black space age fanny pack that evoked a cummerbund.
A pared down colour palette created a sanitized feel that worked nicely on the 80s references - broad, flat apron silhouettes, hoods and thickly textured top-heavy ensembles.
Issey Miyake
The Japanese fashion house put on a show at Paris Fashion Week that fused music, dance, and theatre.
The collection explored the theme of squareness, creating striking forms with three-dimensional "canopy" gowns and square motifs knitted both horizontally and vertically.