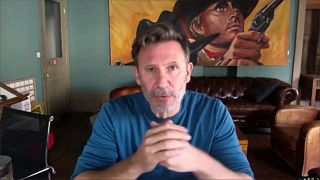 -
Copyright

Capture d'écran Euronews
Euronews Culture caught up with French Oscar-winning filmmaker Michel Hazavanicius following his meeting last week with Ukraine's president Volodymyr Zelenskyy.
Hazavanicius is one of the ambassadors - and the first from France - of the UNITED24 project, a fundraiser launched in May last year to aid with the reconstruction of war torn Ukraine.
He met with Zelenskyy earlier this month on 8 February, in Kyiv just ahead of the one year anniversary of Russia's invasion of its neighbouring country.
Hazavanicius told Euronews Culture's Frederic Ponsard that the war is, "a barbaric invasion. We know that we are in a conflict that is completely absurd and asymmetrical. So that's what I want to remember today, after a year, it's the resilience of these people that is, once again, admirable."
From musician Elton John to actors Barbra Streisand and Mark Hamill to football manager Andriy Shevchenko, many personalities from the world of entertainment, cinema and sport have joined the UNITED24 initiative by making donations and supporting the project's action.
Hazavanicius explained how it worked, saying, "This platform, UNITED 24, is a fundraising platform, so you can give donations. It's very simple, you just type UNITED24 [into a search engine] and you will find the right place. It's possible to give donations in three categories - either for military financial aid, medical aid or for reconstruction."
The Oscar-winning director is tasked with raising funds for the reconstruction of an apartment building in Irpin, in the suburbs of Kyiv, which was completely destroyed by Russian forces. When all the money is raised, residents of 130 apartments will be able to return to their reconstructed homes.
During his visit to Kyiv, The Artist filmmaker said he was struck by the attitude of the Ukrainians, from ordinary citizens to the president, in a time of war.
"I met a president who is very accessible, like all the Ukrainians I have met, who has not forgotten his sense of humour, who has not forgotten to be funny, who continues to have a life. Finally, I found in this city and in this country, what I saw in any case, and in this president, an enormous, enormous drive for life… These people are fully alive and are fighting life too. It's admirable".