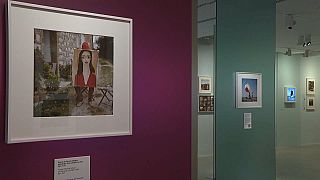 Jacques Henri Lartigue Exhibition Madrid
Jacques Henri Lartigue, one of the greatest photographers of the 20th century, is best known for his black-and-white pictures.
The Canal Foundation in Madrid is presenting a rare exhibition of his works in colour, particularly from the "trente glorieuses" and the "happy moments" he immortalised.
"Colour is the best way to capture the charm and poetry of life" said Lartigue. 
M.C. Escher Exhibition The Hague
Maurits Cornelis Escher is one of the most unusual artists of the 20th century, born 125 years ago in The Hague, in the Netherlands.
His city pays homage to him through an exhibition of his main works.
Entitled "Escher – Other World", the exhibition at the Kunstmuseum combines works by the Dutch master with architectural installations that bring Escher's strange world to life.
Mike Nelson Exhibition London
A short walk from the Thames, in the heart of London, the Hayward Gallery is completely transformed by the installations and sculptures of Mike Nelson.
These are large-scale works, many of which are being shown here for the first time since their original creation.
All of them are constructed from recycled materials. From junk shops to flea markets.