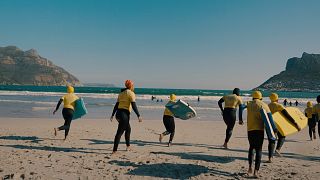 -
Copyright

KAMVA Collective
SCENES shines a spotlight on youth around the world that are breaking down barriers and creating change. The character-driven short films will inspire and amaze, as these young change-makers tell their remarkable stories.
For Marguerite Hofmeyr, a connection with the ocean is practically a birthright. Encouraged by her surfer father, she started diving at age 12, and by 18, she was a PADI-certified Scuba diving instructor, travelling the world and teaching people to dive.
"I really feel passionate about passing on to other people that feeling of safety, passion and rapture that the ocean has given me," Marguerite tells SCENES.
But she was aware that back home in South Africa, the ocean was inaccessible to some people.
Hout Bay, a coastal town, hugs the Atlantic Ocean in the south. Historically, it was a township for non-white communities during the Apartheid era. At that time, they were not allowed at the town's beach.
Thirty years on, the lines that segregate are now invisible, but traces of their effects linger. Despite being a coastal community, many children from disadvantaged townships do not know how to swim. As a result, drownings are not uncommon.
"I decided that I wanted to start an ocean school for communities that are underprivileged and that don't have the access that I've been lucky enough to have throughout my life to the ocean," Marguerite said.
Soon, Marguerite met Frank Soloman, who founded Sentinel Oceans Alliance. Together, they set up Parley Oceans School in Hout Bay in 2020. The 16-week afterschool programme teaches underprivileged youths theoretical knowledge about the ocean and conducts a unique swimming course that incorporates mindfulness.
Overcoming fears with mindfulness
Marguerite, the organisation's operations director, believes the children's fears stem from feeling unfamiliar with the water. Sentinel Oceans Alliance teaches meditation and breathing techniques to help students calm themselves before they get into the water.
"Once we start, they teach us that we should close our eyes. They say, 'take a deep breath. Breathe in and out". We talk about the problems we have throughout the day," says Charles Mphande, a student at the Parley Oceans School.
"This is a practice they can take home and do in any life situation," Marguerite adds.
Coming from disenfranchised communities, the students are no strangers to stress and troubles at home. Some of them have witnessed or experienced violence in their everyday lives.
"One of the reasons I started this programme was because there was a riot. A kid got shot in the face multiple times with rubber bullets. He was just walking down the beach," Frank recalls.
The Parley Oceans School strives to be a safe space for the children to have fun while learning about the importance of safeguarding the ocean. The students learn strategies to protect the ocean, using the acronym 'AIR'.
The AIR strategy
"'A' stands for avoiding plastic, wherever possible. 'I' stands for intercepting plastic waste. We do a mini beach cleanup. The kids get a bag, they get gloves, and then they'll pick up plastic. 'R' stands for redesigning plastic waste. We're not teaching the kids only to redesign plastic, but to redesign their mindset," says Kholofelo Sethebe, a marine biologist and educator.
The strategy proves effective as Kholofelo noted behavioural changes in the students. "I tell my friend that you must not throw away plastic because it will get into the ocean," says student Sylvester Omabi.
Aside from championing the ocean, the students also gain confidence swimming in the water.
"I was really afraid the first time I had to dive under the wave. But I'm not afraid anymore," said David Nzdanzofou.
"In the beginning, they don't want to go deeper than ankle depth, and at the end, they're diving below waves, kicking up the sand, and swimming back to shore," Marguerite says, calling it a wonderful programme.
"Even if one kid's life is changed in a slight way, it's a huge success," Frank adds.
Currently, the team at Sentinel Oceans Alliance are expanding their programmes. Graduates of the Parley Oceans School who show exceptional promise and passion are eligible to extend their enrolment. During this time, they will work through a curriculum in ocean exploration, activism and public speaking.