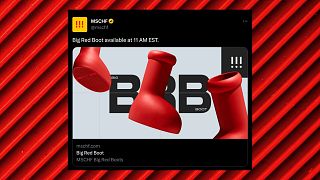 -
Copyright

Canva / Twitter
What's big and red and all over TikTok? The Big Red Boots, or BRB, are pretty much what they sound like, although the jury's out on whether or not they fulfil the more technical requirements of actual boots.
The unreasonable rubber footwear looks like it was torn straight from an Astro Boy manga, and it's taken the internet by storm, racking up tens of millions of views on TikTok and inspiring dozens of influencers to try to squeeze their feet into a pair.
Celebrities have been seen (and often ridiculed) for wearing the boots at basketball games, on the streets of New York City, at fashion shows and even in the wrestling ring.
They've been compared to the boots worn by the character in the children's cartoon Dora the Explorer who's called, ahem, Boots. They've also been likened to clown shoes, Mickey Mouse boots, and of course, Astro Boy.
After weeks of promotional teases, the Big Red Boots went up for sale for a cool $350 (€328) on February 16 and sold out in minutes, but not after they crashed MSCHF's site and incited countless complaints from would-be buyers. Resale sites like StockX are selling the boots for well over €1,000.
Now you may be asking: Has everyone gone insane? And: Who even thought to make something like this?
The masterminds behind the BRB are New York City-based art collective MSCHF (pronounced "mischief"), who are known for their frequent product "drops" that very often go viral.
They've made headlines for wild sneaker designs in the past, like their infamous "Satan Shoes" collab with US rapper Lil Nas X or their "Jesus Shoes" made with holy water, which put them on the map in 2019. The Satan Shoes sparked a trademark infringement lawsuit from Nike, which MSCHF settled in 2021.
The team at MSCHF used to run a marketing agency, according to the New York Times, but over the years their work has taken a satirical turn that's more focussed on social commentary than any financial bottom line – their style has earned them comparisons to UK street artist Banksy.
Some of MSCHF's other viral drops include gimmicky products like cologne that smells like WD-40 rust spray, and a service that sends users AI-generated images of feet called This Foot Does Not Exist.
Late last year, MSCHF created an art installation at Art Basel Miami that looked and worked like an ATM, but displayed a leaderboard like an arcade game. People who used the ATM were ranked based on how much money they had in their bank accounts.
MSCHF has even released fonts, like Times Newer Roman, which they claim is "5-10 per cent wider" than the normal Times New Roman font – presumably to help students hit their page count faster on school papers. (Don't act like you've never increased the size of your punctuation or played around with the size of the margins.)
As for the Big Red Boots, the message is simple: they're boots, they're big and they're red.
The description for the product on MSCHF's website mentions the cartoon characters that have paved the way to defining the image we see in our heads when we think "boots".
"It's a footwear design truism that the shape of a shoe is not the shape of a foot. Big Red Boots are really not shaped like feet, but they are extremely shaped like boots."
Whether or not they act like boots is yet to be determined.