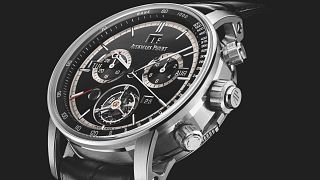 -
Copyright

Audemars Piguet
50 years after the launch of its iconic Royal Oak timepiece, prestigious watchmaker Audemars Piguet has introduced a new model which is raising eyebrows.
The Swiss manufacturer unveiled its new design of the 'Ultra Complication' last week but, if you're thinking about buying it, you may have to save up. It retails at a cool €2 million! Plus there will only be eight pieces made a year, adding to the exclusivity.
The pricey watch was launched as part of the 148-year-old luxury brand's new Code 11.59 collection. 
Its official name is the 'Ultra Complication Universelle RD#4'. Audemars Piguet say it's made up of over 1,100 components, integrated into a case which is a slim 42mm in diameter and 15.5mm thick. It is said to feature 40 functions and 23 complications, and is being sold as an impressive horological feat.
Clock the competition
Founded by Jules Louis Audemars and Edward Auguste Piguet in the village of Le Brassus in Switzerland in 1875, the company now has a vast annual turnover, approx. €2.022 billion. 
Last year, it was reported that it had made more in sales than arguably its more famous rival Patek Philippe, bringing in approx. €1.598 billion in the 2020 - 2021 period. That figure comes despite Audemars Piguet limiting themselves to producing a relatively small 50,000 pieces a year, up from their previous level of 40,000. In comparison, Rolex is estimated to make around one million watches annually.
Audemars Piguet's timepieces are almost always subject to a long waiting list and that's certainly true for the Royal Oak model, which makes up a large chunk of the company's production. Worn by celebrities like Jay-Z and LeBron James, it's helped cement the brand of one of the most successful watch companies in the world.
Current outgoing CEO François-Henry Bennahmias said in 2018 that the corporation had joined watchmaking's 'billion Swiss franc club', an informal name for brands of the same ilk who managed to achieve 10-figure revenues. In 2023, Bennahmias told press that figure had doubled.
Despite its hefty price tag, the €2 million watch is actually relatively cheap in the world of high-end watches.
In November 2019, Patek Philippe made history when its 'Grandmaster Chime 6300A-01' sold at auction for approx. €28.9 million. The wristwatch is said to be the most complicated ever made and its sale at a Christie's event in Geneva easily beat the previously held record auction price of late actor Paul Newman's Rolex 'Daytona'. That made around €16.5 million when it was sold in 2017 in New York.