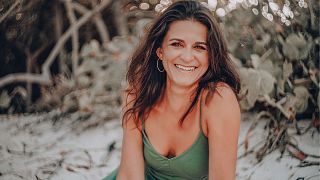 -
Copyright

Marina Iakovleva
There's no such thing as dating in France - if you're together, you're together. 
Flirting with a Finnish man? Expect lots of awkward silences. In sexually liberated Iceland, however, you'll be met with a much more upfront response to any hints of a one night stand - and possibly become a Kviðsystur or Kviðmágar (words to describe two people that have slept with the same person.) 
These cultural differences in dating around Europe have become somewhat of an obsession for content creator Marina Iakovleva, who was born in Moscow to Russian/Ukrainian parents and raised in Toronto, Canada from the age of 12.  
In 2013, Iakovleva founded Dating Beyond Borders, a YouTube channel with 623K subscribers and a combined 184,619,805 views that focuses on relationship trends worldwide.
"The more experience I got with dating men in different countries, the more fascinated I got with the concept," says Iakovleva, who was teaching abroad in Panama, Latin America when she first had the idea to start interviewing people around the world about their views on sex, language and love.
"I fumbled around for a while with no real success. It was when I was let go from the [teaching] job that I dedicated all my days into making the channel a reality."
While YouTube is overflowing with aesthetically pleasing travel vlogs that showcase food, art, luxury penthouse suites and more, Iakovleva had noticed that one element of culture was often missing from this type of content: Dating.
Whether it's a fling or longer-term thing, connection with others is an essential part of many travellers' (and, increasingly, digital nomads') experiences abroad.
"Love is love, but cultural differences can break a relationship, especially if they're not communicated," says Iakovleva.
Many of her videos focus on cultural stereotypes played out in skits to create humour and a broader relatability (eg. You Know You're Dating a French Woman When...) but others, like the Single's Guides, take a more documentarian approach, interviewing various locals about their relationship habits. The most popular in this series is Iceland - which just so happens to be a big fan of casual sex.
Iakovleva's content has also taken off across other platforms like Instagram and TikTok (1.4M likes) where the identity-focused angle resonates with viewers looking to surmise their relationship experiences.
In the process of creating all this content, Iakovleva has become somewhat of an expert on the subject of dating do's and don'ts - across Europe especially - having even written a book titled: Sex Before Coffee: A Guide to Dating in Scandinavia.
Here's her advice for avoiding any potential future cultural conflicts while wooing.
The Netherlands
Be direct
"If a Dutch person has an opinion, they won't beat around the bush (which is the complete opposite to the Brits who often need about 10 sentences just to get to the point!)"
Value authenticity
"The Dutch also believe that one of the most necessary characteristics is to be down to earth, be genuine and be real." (Not the social media app.)
France
Voulez-vous un rendez-vous?
"There is no word for 'dating' in France! The closest you get is rendez-vous, which can also translate to a formal appointment or a non-romantic meeting."
Keep it cas
"The French also don't typically do the standard sit down, interview style of dates (the dating apps did change that somewhat)," says Iakovleva, emphasising that group hangouts are common and dating is much more casual. 
"There's less about rules and labels (eg. third date we have sex, let's have the talk), more about seeing if you're attracted to each other and going with the flow."
But not too cas
"Don't dress too casually in France (this depends on the region of course as Northern France is a bit more casual), but generally speaking a sophisticated and elegant appearance is key."
The UK
Humour is everything
"If there is one word to keep in mind when dating a Brit, it is banter," says Iakovleva - banter being British slang for teasing remarks tossed lightheartedly between friends. 
"If you're wondering how to chat up a British girl, forget about compliments, go for the humour. If a British guy is taking the piss out of you, it might be because he likes you. Playfulness, sarcasm and humour is used to create rapport and a connection between people."
Germany
No love games
"Germans are a pragmatic/practical bunch and prefer weighing the situation instead of getting swept away with their feelings. It's less about beating around the bush as they prefer to be honest and straightforward with their intentions." 
Respect boundaries
"Germans prefer taking their time in building a relationship instead of rushing into anything. Keep in mind that Germans really value their privacy and personal space, so they won't be as open about their personal lives/feelings as other countries.
Finland
Shy guys
"If you're on a date with a Finn (especially a Finnish man), get ready for a lot of silence. Silence is only uncomfortable for you and not the Finn, as they can comfortably sit in it," says Iakovleva.
"As Finns and Swedes are not natural conversationalists, you might have to initiate a lot more than you're used to. Either asking questions, or talking about yourself and hoping your date opens up."
Girl power
"Equality reigns in Finland, and there are barely any gender roles. It is often the women that call the shots here - they might approach and text the guy first and Finnish men prefer that assertiveness."
Portugal
Take it slow
"Portugal is now popular as being the digital nomad hub, but it's still a very traditional country at heart. 
I have spent almost two years living there, and the first time I arrived and started asking people about the dating scene, the Portuguese men shared that because it's such a conservative place still, the dating scene is quite tough to navigate. 
Lisbon, as an example, still has the village mentality. People talk, and Portuguese women are worried about the stigma of losing face, or having their friends gossip, so they make it really difficult for guys to approach them and then make them "jump through hoops". 
In general however, people take things slowly and it may take longer to get serious (this depends on if it's a bigger city or a village of course.)"
Spain
More passion!
"Very sexually liberated, Spanish people are not afraid to be casual and to enjoy casual sex. Passion, physical affection, being highly social and going out (really late!) is a big part of the culture. 
Most Spanish people have no problem with speaking their mind without much filter and Spanish women are highly independent."
Scandinavians (Swedes, Norwegians and Danes)
Sex first, relationship after
"Scandinavians are very liberal when it comes to sex. They openly talk about it since childhood, they are encouraged to go out and have a healthy sexual life, and the hook up scene is huge in all three countries." 
Antiquated gender roles, get rid
"If you're used to buying drinks at the bar for the women you like, it might not play so well in Scandinavia. As mentioned, Scandinavian women don't like to owe anything nor do they want to be bought. They won't take the drink unless they like you and they would most likely offer to buy you one back if they do.
Scandinavian men also find independence and self-sufficiency hotter. They won't want to be your night in the shining armour - they want to be teammates." 
Humble yourself
"Bragging is a big no-no in all Nordic countries. Keep it real and don't overdo it. Don't overdo the compliments, and the gestures, and don't do the "macho" thing (this also goes for Netherlands and Germany)."