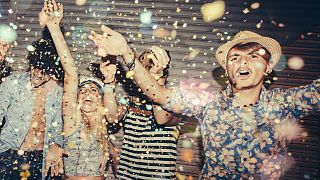 -
Copyright

visitberlin.de
Berlin is encouraging young people to go back out into the city by giving them €50 to enjoy the city's cultural venues and events.
Launched by the Berlin Senate Department for Culture and Europe, the initiative starts this month and encourages Berlin youths aged between 18 and 23 to sign up for a Jugendkulturkarte - a youth culture card. 
Those eligible can register for the card online and pick their cards up in public libraries until the end of February. It will also be available to non-German residents in the city.
The €50 credit is valid until 30 April and can be spent at 200 venues across the city, including theatres and nightclubs.
Among the clubs part of the initiative are SchwuZ, one of Germany's oldest queer clubs; Cassiopeia, the brilliant nightclub offering live music and a charming outdoor courtyard; Ritter Butzke, the three-floored former factory known for its electro nights; and Gretchen, the infamous nightclub located in former Prussian military stables.
The Berlin Club Commission, which represents a number of key clubs and parties in the city, celebrated the news on Instagram.
"@jungendkulturkarte.berlin has launched today and we are happy that clubs are part of it. Obviously you can go to the opera or museum with Jungendkulturkarte but we have clear preferences."
The scheme was first announced by Klaus Lederer, Senator for Culture and Europe, in December.
"Participation in art and culture for all Berliners is very important to me. The youth culture card for 18 to 23-year-olds is aimed at a young audience who are just getting to know Berlin's diverse cultural landscape after the restrictions of recent years," Lederer said at a conference in December.
Berlin is well known for its eclectic and vibrant alternative scene and is considered as the nightlife capital of the world. However, the pandemic and the increasing cost of living crisis has hit the scene hard. Berlin authorities are hoping that this initiative can help revitalize the city's entertainment and cultural venues, as well as counteract the consequences of soaring rent prices and growing lack of disposable income.
The fear is that beloved and iconic venues will be forced to close shop and dent the cultural landscape of many cities.
Culture passes in Europe
Last year, it was announced that Germany had joined three other EU nations in providing a culture pass for young people.
The Kulturpass gives every German that turns 18 in 2023 the sum of €200 to spend on cultural goods and events, such as concerts, books and theatre tickets.
The scheme is aimed not only at stimulating the German arts scene but at getting young people out of the house after the pandemic, as there are concerns that lockdown habits have stuck with some teenagers who spent their formative years indoors due to COVID-19.
It was also announced that if the scheme proves to be successful, it may later be rolled out to other age groups, possibly those aged 15+.
The other similar European initiatives have proven very popular.
In 2021, the leftwing coalition in Spain handed out a €400 culture voucher to teens turning 18, a deal which was taken up by 57.6% of those eligible.
Italy introduced a 'culture bonus' of €500 for 18-year-olds. The initiative was rolled out in 2016, and has survived the country's chaotic government changes. Books, music and concert tickets have proven the most popular with participants.
In neighbouring France, the Culture Pass scheme is worth €300 for 18-year-olds, whose options for spending include online news subscriptions, classes, workshops, art supplies, vinyls, and French media platforms like Canal+.
The Culture Pass is designed to promote "knowledge of and access to cultural offerings", especially for teens that might have been deprived from their first concert or art show over the pandemic.
This scheme has since been extended to give 15-17-year-olds funds to spend on cultural interests: €20 the year they turn 15, €30 the year they turn 16 and 17, then the full €300 when entering adulthood.