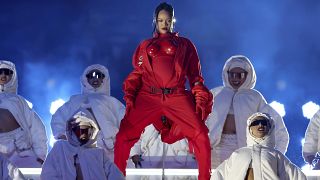 -
Copyright

Jeff Lewis/Copyright 2023 The AP. All rights reserved.
Rihanna was above it all. And pregnant to boot.
She began and ended the Super Bowl 57 halftime show hovering high above the field at State Farm Stadium in Glendale, Arizona.
The performance lacked the surprise guests stars included in many previous Super Bowl halftimes, save one - her representative revealed afterwards that the singer is pregnant with her second child.
Rihanna wore a puffy, bright red jumpsuit with tight, rubbery garb underneath that showed a baby bump that fueled a wave of social media speculation until the big revelation.
Dancers wearing white ski-style suits and shaded goggles had their own suspended platforms that moved in concert with hers.
She and the dancers were lowered to a long stage that matched her outfit as she sped through hits including "Work," "Where Have You Been," and "Only Girl," belting out "Want you to make me feel like I'm the Only Girl in the World."
There were none of the constant costume changes and scene shifts from previous years. The theme - and the colour scheme - stayed the same throughout the 13-minute show, with red lights bathing the stage at times and golden fireworks exploding in the air above her.
For more watch Euronews' report in the video above.