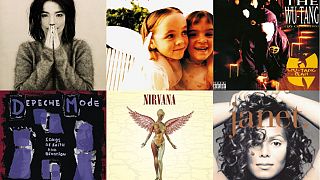 -
Copyright

One Little Indian, Mute, Virgin, Loud, DGC,
Are all albums celebrating a major milestone anniversary this year absolute gems?
In this five-part series, Euronews Culture takes a trip down memory lane and explores the landmark albums celebrating their big anniversaries in 2023, and picking out one standout album that you should rediscover or embrace as the best that year had to offer.
After the albums turning 10 and the albums turning 20, we continue with those 1993 releases turning 30 this year.
1993… It was a year so good in music that knowing where to start is proving to be dizzying, so bear with us.
It was the year of the debut album, with so many great acts giving us a first taste…
Liz Phair stunned everyone with her debut 'Exile in Guyville', a play on The Rolling Stones' 'Exile On Main St.' and a loose song-by-song response to the 1972 album; The Cranberries released 'Everybody Else Is Doing It, So Why Can't We', featuring killer tracks like 'Dreams' and 'Linger'; Wu-Tang Clan made a big impression with their first, 'Enter the Wu-Tang (36 Chambers)', which ended up serving as a blueprint for future hip-hop acts; Snoop Dogg had 'Doggystyle', with hits like 'Gin and Juice' and 'Who Am I? (What's My Name?)'.
Wait, there are more first timers…
Counting Crows had everyone singing along to 'Mr. Jones' with their first album 'August and Everything After'; Tool exploded onto the scene with 'Undertow'; all Sheryl Crow wanted to do was have some fun with 'Tuesday Night music Club'; Ace of Base signed 'The Sign' with hit singles like 'All That She Wants' and 'The Sign' (don't pretend you don't love them); and Oxford's finest Radiohead also released their debut album 'Pablo Honey', which has aged poorly – especially considering the band's adventures into new sonic territories – but still featured tunes like 'Creep' and 'Anyone Can Play Guitar'. It marked the promising beginning of a band that would end up shaping music history for decades to come.
That difficult second album syndrome was disproved by so many…
Blur's 'Modern Life Is Rubbish' was a cut above 1991's 'Leisure' and heralded the start of Britpop with tracks like 'For Tomorrow' and 'Sunday Sunday', while PJ Harvey's 'Rid Of Me' – one of the greatest albums of all time – included '50ft Queenie', 'Rub 'til It Bleeds' and had us all singing "_Lick my legs I'm on fire / Lick my legs of desire_". 
Another excellent sophomore effort was by Slowdive and their acclaimed 'Souvlaki', which has since been hailed as a classic of the shoegaze genre; The Breeders had their 'Last Splash', which saw Kim Deal's supergroup go from strength to strength following the split of the Pixies, especially with the track 'Cannonball'; Pearl Jam had the unenviable task of following up their 1991 debut 'Ten' with 'Vs.', which defied all expectations; and the second album by Mazzy Star, 'So Tonight That I might See', was a testimony to what dream pop dreams are made of. It was a completely hypnotic effort, with the stunning single 'Fade Into You' lulling everyone into a collective swoon.
If there was one second album to get excited about in 1993, it was The Smashing Pumpkins with arguably their best album, 'Siamese Dream'. It was a significant step up from their already terrific debut 'Gish', and to this day, songs like 'Today', 'Disarm' and 'Mayonaise' still stand as some of the band's best tracks.
Two 80s darlings made something of a comeback.
Following their peak in the previous decade, Duran Duran came back on top form with their self-titled album, and the singles 'Ordinary World' and 'Come Undone' were the sound of a band beginning a whole new chapter in their career. And then there was electro rockers Depeche Mode, who had a great year with their best album 'Songs of Faith and Devotion', a more guitar-heavy offering that spawned hits like 'Walking in my Shoes' and 'I Feel You'.
And let's not forget Lenny Kravitz's 'Are You Gonna Go My Way', his third album after 'Let Love Rule' (1989) and 'Mama Said' (1991), which included the title track heard on radio stations all around the world, and Janet Jackson's masterful 'Janet', which only had hits.
Our top pick of 1993 was very nearly Nirvana's third and final album, 'In Utero', which found the Seattle band getting back to their raw roots after the world-conquering success of 1991's 'Nevermind'. Kurt Cobain died one year later, leaving listeners with songs like 'Heart-Shaped Box', 'Pennyroyal Tea', 'Rape Me' and 'All Apologies', which were played on repeat following his death.
However, and considering the lunatic amount of stellar debut albums this year, we've gone for a first.
The record turning 30 this year that deserves to be championed the most is...
Björk and her adventurously-titled debut album, 'Debut'.
Though it was her first album, the Icelandic singer-songwriter was far from a novice on the music scene. The former Sugarcubes member was nonetheless introduced to the world as a solo artist with 'Debut', which instantly marked her out as a force nature to be reckoned with.
Björk ambitiously blended a wide variety of sounds on this album, weaving in moody strings, club beats, world music, jazz influences and ambient house, a delirious pop mix that feel just as innovative today as it did in 1993. 
The meticulously written and performed songs included 'Human Behaviour', 'Venus as a Boy', 'Big Time Sensuality' and 'Violently Happy', as well as 'Play Dead' on the re-release edition that dropped that same year. This added track is quite possibly one of Björk's greatest. Originally released as a single from the soundtrack of the 1993 crime drama The Young Americans, starring Harvey Keitel, 'Debut' is a stronger album for its inclusion.
The musician has moved into greater experimental territory over the years, with her latest - 2022's 'Fossora' - showing how far she has evolved from her experimental pop days. 'Debut' sounds quite quaint compared to her recent releases, and while it may not be as strong as the glorious 'Post' (1995), the utterly perfect 'Homogenic' (1997) and the atmospheric 'Vespertine' (2001 – her greatest achievement to date), that doesn't detract from the fact that rare are artists that can release a debut album this exciting, varied and accessible. 
'Debut' was a start-as-you-mean-to-go-on statement of intent, one which acknowledged that Björk's first solo album was a rehearsal for greater things to come. It established her as a singular artist which, from the very beginning, took great joy and skill in confounding expectations. Choose to (re)discover it and appreciate the grandiose sonic shift listeners must have felt in 1993.
Join us next week for Part 4 in this series - the best albums turning 40 in 2023.