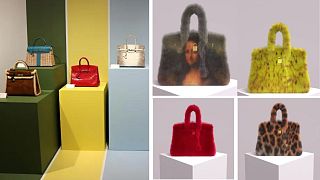 -
Copyright

AFP - Mason Rothschild
When fashion and non-fungible tokens (NFTs) collide, it's not always pretty.
A Manhattan federal jury ruled in favour of high-end designer Hermès on Tuesday (7 February) in a case against artist Mason Rothschild, who had released 'MetaBirkin' NFTs and, in doing so, was found to have broken trademark infringement laws.
The 28-year-old, whose real name is Sonny Estival, was also found liable for brand dilution and cybersquatting and was ordered to pay $133,000 (approx. €124,000) in statutory damages to the French fashion house.
Hermès had sued the artist for creating and selling 100 so-called 'MetaBirkins' - faux fur covered Birkin bag-inspired NFTs in November of 2021. The brand, founded in Paris in 1837, said the digital artworks diluted their brand, confused current and potential customers and damaged its own plans for future NFTs.
Hermès suggested Rothschild had created the NFTs as a 'get rich quick' scheme and claimed he'd sold over $1 million worth (roughly €929,000) of the tokens since December 2021, after their launch at the Art Basel fair in Miami.
The case has been closely watched for clarification on how trademark law might apply to the tokens - often used to verify ownership of digital art on blockchain networks - and marks one of the first intellectual property trials of its kind.
Lawyers for Rothschild denied the allegations, insisting that the two-dimensional digital tokens were a commentary on fashion's fur-free initiative, an experiment in replicating luxury handbags' perceived value and also artistic expression that is protected under the United States Constitution's First Amendment.
"A broken justice system"
The legal battle may not be over though…
An attorney for Rothschild issued a statement saying: "We will appeal. We will take every legal avenue that we have. It's a great day for big, luxury brands and a terrible day for artists and the First Amendment."
Rothschild's lawyers also spoke out against the judge's decision not to allow one particular witness to take the stand.
Contemporary art critic Blake Gopnik had written a report explaining why 'MetaBirkins' are art in their own right. He's known for his biography of late artist Andy Warhol, whose iconic Campbell soup creations were said at trial to be similar to Rothschild's creations and not damaging to any established brand.
Gopnik was put forward as a witness but his lack of appearance caused Rothschild's lawyers to say: "A broken justice system that doesn't allow an art expert to speak on art but allows economists to speak on it."
"In the style of"
The Birkin was first introduced in 1984 and named after singer, actress and style icon Jane Birkin. The design was inspired by her, after she told a Hermès executive that an oversized luxury handbag would be useful for travel during a conversation on an international flight.
The jury heard that Hermès' much sought after Birkin bags retail for upwards of $12,000 (approx. €11,150) and are the brand's best-selling product. The company said it sells more than $100 million (approx. €92,930,000) in Birkin bags each year, and that figure has remained the same for the past decade. They say each individual bag requires 18 to 24 hours of work to produce.
Hermès claimed repeatedly that the NFTs damaged the Birkin brand, which is a registered trademark for its name and its design.
One particularly damning piece of evidence heard in the Manhattan courtroom was a text message from Rothschild which read, "People don't realise how much you can get away with by saying 'in the style of'".
Lawyers for Hermès also showed the court articles appearing in media which incorrectly linked Hermès to the 'MetaBirkins' release. Rothschild's lawyers fought back saying he took credit for the project wherever possible - and never misled anyone to think the luxury brand was involved. His lawyers also held up a 2 dimensional cut out paper print of a 'MetaBirkin' with a real Birkin bag to show the jury the obvious difference. They weren't convinced, however, and found in favour of Hermès.