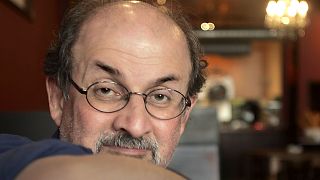 -
Copyright

Liz Hafalia/San Francisco Chronicle
Months after being stabbed repeatedly as he prepared to give a lecture at a literary event in New York, award-winning author Salman Rushdie is blind in his right eye, struggles to write and, at times, has "frightening" nightmares.
However, he still has a feeling of gratitude, he said during his first interview since the attack.
"Well, you know, I've been better," he told The New Yorker's David Remnick during an interview published Monday. "But, considering what happened, I'm not so bad."
"The big injuries are healed, essentially," Rushdie went on to describe. "I have feeling in my thumb and index finger and in the bottom half of the palm. I'm doing a lot of hand therapy, and I'm told that I'm doing very well."
Remnick, who spoke with Rushdie both in person at his agent's office in Manhattan and via Zoom, wrote that the Booker Prize-winning author had lost more than 18 kilograms and mostly reads through an iPad so he can adjust the lighting and font size.
"There is scar tissue on the right side of his face," Remnick wrote. "He speaks as fluently as ever, but his lower lip droops on one side. The ulnar nerve in his left hand was badly damaged."
What happened to Salman Rushdie?
The award-winning author spent years in hiding and has long endured death threats due to his book 'The Satanic Verse', which was published in 1988. 
The novel sparked a huge backlash. It was seen as a disgrace by many Muslims around the world and deemed an insulting portrayal of Islam and the Prophet Muhammad. 
Rushdie was forced into exile in 1989, after the then-Iranian leader Ayatollah Ruhollah Khomeini issue a fatwa (a decree) calling for the author's assassination, placing a €2.8m bounty on his head.
Despite going into hiding for several years in the 1990s, Rushdie had long since moved about freely, with minimal security. 
But last year, Rushdie was severely attacked on stage by a young man dressed in black and carrying a knife, whilst talking on stage at the Chautauqua Institution in western New York. 
The alleged assailant, Hadi Matar, has pleaded not guilty to charges of assault and attempted murder. During his New Yorker interview, Rushdie referred to Matar as an "idiot," but otherwise said he felt no anger.
"I've tried very hard over these years to avoid recrimination and bitterness," he said. "I just think it's not a good look. One of the ways I've dealt with this whole thing is to look forward and not backwards. What happens tomorrow is more important than what happened yesterday."
Rushdie's latest book
The interview came out on the eve of the publication of the author's new novel, 'Victory City', which he completed a month before he was attacked. 
It's been described as a "tale of epic proportions" and follows a woman who creates a fantastical empire but is eventually consumed by it over the centuries. 
The story begins in 14th century southern India where a nine-year-old girl has a transformative encounter with the goddess Parvati. 
The goddess imbues the girl, Pampa Kampana, with powers to create a great city called Bisnaga, known as the "victory city".
Over the next 250 years, Pampa's life becomes intertwined with Bisnaga's growth and eventual downfall due to the arrogance of those in power. 
Throughout the centuries, Pampa tries to fulfil the goddess's mission to give women agency in a male-dominated society, but as time goes on and rulers change, the city becomes increasingly complex, with Pampa at its core.