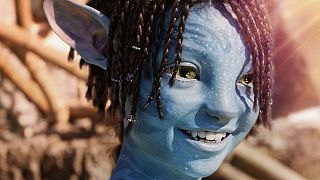 -
Copyright

20th Century Studios - Lightstorm Entertainment
There's apparently no stopping James Cameron and his intergalactic smurfs.
And now, it's box office official: Pandora has bested the galaxy far, far away.
Avatar: The Way of Water has passed Star Wars: The Force Awakens as the fourth highest-grossing movie of all time, with the second Avatar film grossing $2.1 billion at the global box office. And counting...
The Force Awakens (2015) finished its theatrical run with $2.064 billion.
With this latest box office milestone, Cameron now has three of the top four highest-grossing movies in history: the original Avatar is still the champion (following its theatrical rerelease prior to the premiere of The Way of Water, with a global intake of $$2.89 billion), while Titanic ($2.2 billion) sits in third place.
2019's Avengers: Endgame still holds on to its second spot with $2.79 billion.
The Way of Water needed to earn $1.5 billion to break even, while Cameron stated that it would need to "be the third or fourth highest-grossing film in history" to start turning a profit. So, job done.
Industry sources indicate that Avatar: The Way of Water should top Cameron's own Titanic in the coming week to land at No.3. That being said, there is an impending Valentine's Day rerelease of Titanic, so that may keep the boat afloat. 
The third Avatar film has already been set for release on 20 December 2024 and there are plans for a fourth and fifth. There's no reason to suspect they won't go gangbusters – let's just hope that Cameron will spare some pocket money on hiring a scriptwriter this time …