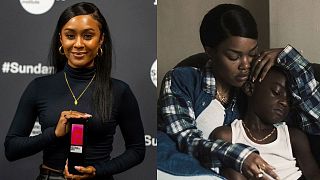 -
Copyright

Sundance Institute
The 2023 Sundance Film Festival took its bow this weekend in Park City, Utah, after its first in-person edition since 2020.
In recent years, the festival has awarded its Grand Jury Prize to some future awards heavyweights like Minari (2020) and Oscar Best Picture winner CODA (2021). The successor to last year's Nanny was announced as A Thousand and One, from debut writer-director A.V. Rockwell.
The 90s set film is a redemption drama about a single mother Inez (Teyana Taylor) in New York City who kidnaps her young son Terry from the foster care system in order to give them a fighting chance for a new life. Holding on to their secret and each other, the mother-son duo set out to reclaim their sense of home, identity, and stability.
A.V. Rockwell was one of eight women in this year's female-led competition.
The film also stars Will Catlett, Josiah Cross, Aven Courtney and Aaron Kingsley Adetola.
The jury cited: "Never have I seen a life so similar to my own rendered with such nuance and tenderness. I walked out of the theatre and wept in front of people I barely know because this film reached into my gut and pulled from it every emotion I've learned to mask in these public spaces. As a jury we know how impossible it is to make work that is real, full of pain, and fearless in its rigorous commitment to emotional truth born of oppressive circumstances."
Elsewhere, Going to Mars: The Nikki Giovanni Project, directed by Joe Brewster and Michèle Stephenson, took the US Documentary Jury Prize. The film examines the life and legacy of the legendary poet Nikki Giovanni.
The Jury citation stated that the film "focuses on a singular, unapologetic voice, and through her story it captures the experience of the collective. The strong directorial vision illuminates the joy and the raw reality of the Black experience. Also it is fucking funny."
Audience winners included The Persian Version, directed by Maryam Keshavarz, for Dramatic film and Beyond Utopia, directed by Madeleine Gavin, for Documentary.
The award for festival favorite went to Radical, a teacher drama led by Eugenio Derbez.
Notably, three trans-themed films took home awards.
KOKOMO CITY won prizes in Sundance's more experimental NEXT section, while Mutt star Lio Mehiel won the Special Jury Acting award in US Competition. In the US Documentary section, Kristen Lovell and Zackary Drucke's The Stroll earned a Special Prize for "clarity of vision." The film examines the history of Manhattan's Meatpacking District through the eyes of transgender women of colour.
Here is the full list of the 2023 Sundance Film Festival Award winners:
Grand Jury Prizes
US Dramatic Grand Jury Prize: A Thousand and One, directed by A.V. Rockwell
US Documentary Grand Jury Prize: Going to Mars: The Nikki Giovanni Project, directed by Joe Brewster and Michèle Stephenson
World Cinema Dramatic Grand Jury Prize: Scrapper, directed by Charlotte Regan
World Cinema Documentary Grand Jury Prize: The Eternal Memory, directed by Maite Alberdi
Festival Favorite Award: Radical, directed by Christopher Zalla
Audience Awards
US Dramatic Audience Award: The Persian Version, directed by Maryam Keshavarz
US Documentary Audience Award: Beyond Utopia, directed by Madeleine Gavin
World Cinema Dramatic Audience Award: Shayda, directed by Noora Niasari
World Cinema Documentary Audience Award: 20 Days in Mariupol, directed by Mstyslav Chernov
NEXT Audience Award: KOKOMO CITY, directed by D. Smith
Jury Awards for Directing, Editing, and Screenwriting
US Dramatic Directing Award: Sing J. Lee for The Accidental Getaway Driver
US Documentary Directing Award: Luke Lorentzen for A Still Small Voice
World Cinema Dramatic Directing Award: Marija Kavtaradze for Slow
World Cinema Documentary Directing Award: Anna Hints for Smoke Sauna Sisterhood
US Dramatic Waldo Salt Screenwriting Award: Maryam Keshavarz for The Persian Version
US Documentary Jonathan Oppenheim Editing Award: Daniela I. Quiroz for Going Varsity in Mariachi
Special Jury Awards
US Dramatic Special Jury Award for Ensemble: The cast of Theater Camp
US Dramatic Special Jury Award for Creative Vision: The creative team of Magazine Dreams
US Dramatic Special Jury Award for Acting: Lio Mehiel for Mutt
US Documentary Special Jury Award for Clarity of Vision: The Stroll, directed by Kristen Lovell & Zackary Drucker
US Documentary Special Jury Award for Freedom of Expression: Bad Press, directed by Rebecca Landsberry-Baker & Joe Peeler
World Cinema Documentary Special Jury Award for Creative Vision: Fantastic Machine, directed by Axel Danielson and Maximilien Van Aertryck
World Cinema Documentary Special Jury Award for Vérité Filmmaking: Against the Tide, directed by Sarvnik Kaur
World Cinema Dramatic Special Jury Award for Creative Vision: Animalia, directed by Sofia Alaoui
World Cinema Dramatic Special Jury Award for Cinematography: Lílis Soares for Mami Wata
World Cinema Dramatic Special Jury Award for Best Performance: Rosa Marchant for When It Melts
NEXT Innovator Award: KOKOMO CITY, directed by D. Smith
Short Film Awards
Short Film Grand Jury Prize: When You Left Me on That Boulevard, directed by Kayla Abuda Galang
US Fiction Short Film Jury Award: Rest Stop, directed by Crystal Kayiza
International Fiction Short Film Jury Award: The Kidnapping of the Bride, directed by Sophia Mocorrea
Animation Short Film Jury Award: The Flying Sailor, directed by Wendy Tilby and Amanda Forbis)
Nonfiction Short Film Jury Award: Will You Look at Me, directed by Shuli Huang
US Short Film Special Jury Award for Directing: The Vacation, directed by Jarreau Carrillo
International Short Film Special Jury Award for Directing: AliEN0089, directed by Valeria Hofmann