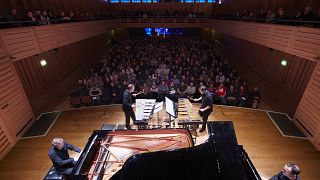 Copyright

Nick White/Nick White/Kings Place
-
The UNESCO Week of Sound is held in January each year, with the aim to educate the public and raise awareness among all actors in society about the importance of the quality of our sound environment. To celebrate this important event, Euronews Culture has delved into 'Sound Unwrapped'.
How can you bring together the disparate musical stylings of musicians in almost every genre, from ambient electronica to a 17th century viola da gamba virtuoso, into one cohesive musical programme? 
It's the question at the heart of London music venue Kings Place and their 2023 series 'Sound Unwrapped'.
The answer lies with a brand new sound system. 
Developed by d&b audiotechnik, one of Kings Place's halls has been converted to house a 360° sound system. Instead of the typical set-up of right and left channels for sound, there are 19 separate speakers and 48 channels. Musicians can alter the way sound exists in the space through this.
Instead of seeing a musician on a stage and hearing their music coming from a speaker column to the left of them, Kings Place audiences will experience an all-encompassing sound, tailored to the specific desires of the artist. Reverb, echo, and positioning are all manipulatable through the innovative setup.
"There was a kind of sensory deprivation over the last two years," says Helen Wallace, artistic and executive director of Kings Place. "There's a real thirst for actually becoming more involved in a more immersive way, where the musicians and the audience are sharing a space."
Concerts will take place in a variety of setups, from traditional seating to in-the-round, and to people lying on the floor.
"We're really soaking the audience in an experience that they're sharing with the musicians, we're trying to break down that and dissolve that and make it so that you might be lying on the floor and feeling vibration through the body," Wallace says.
Opening up the first nights of 'Sound Unwrapped' are two acts that show how diverse the uses of the system can be. 
The programme starts on the 19 and 20 January with 'Moonbathing', an immersive experience created by Loss><Gain's David Sheppard and John Best, who have reworked tracks by Gruff Rhys, Oliver Coates and Rival Consoles to create a relaxing sensual experience. 
Kings Place are even providing mats and bean bags to truly melt into the soundscape.
Later, on the evening of the 20th, the hall will be repurposed for a performance by Liam Byrne, an expert on the viola da gamba, a 17th century renaissance instrument that resembles something between a cello and an acoustic guitar.
"All of the pieces that I've chosen are things where I play with ideas of space and structure," Byrne explains. 
As part of his set he will play the 16th century composer Picforth's 'In Nomine'.
"It's renaissance minimalism for five viola da gambas. Each player only played one rhythm the whole time. But everyone has a different rhythm," Byrne says. "Imagine five gears of five different sizes, all interlocked with each other, and just slowly ticking like some kind of crazy music of the spheres, astronomical clock thing."
While the original piece demanded five players, Byrne will appear on stage alone. By using the soundscape system, he plans on creating a chorus experience through technological choreography.
Byrne's set will also include works from his 2019 album 'Concrete', as well as a restructuring of 'Long Phrases for the Wilton Diptych', a sonic cathedral work originally by Nico Muhly which was written as a sound installation for the National Gallery.
Originally an infinitely looping self-generating piece, Byrne has reworked Muhly's textual phrases to live generate in the soundsystem.
"In my work, I'm not writing the music. And so the piece of music that I am creatively interpreting is really an element in itself," Byrne says. "In the classical background, it's very important for us to look carefully at the individual pieces and ask the piece itself, what type of performance dynamics it needs in order to really thrive."
With over 50 events planned, the use of Kings Place's two halls will have something for everyone. Artists in residence Space Afrika and Hannah Peel are great examples.
Manchester electronic duo Space Afrika will give a full performance of their 2021 album 'Honest Labour', as well as a specially curated show designed around the d&b soundscape technology.
Hannah Peel is also giving a full album performance. 
The debut of her Mercury-nominated album 'Fir Wave' is the first time any of the tracks will be heard live, besides a performance at the Mercury Awards in 2021.
"It was a record written with no intention of playing live," Peel says.
"I've been picking all the layers apart and seeing how they work and what instruments we can use. How do we recreate using the original Delia Derbyshire sounds that are on the record? How do I take the radiophonic workshop sounds and integrate that into the live performance?" she asks herself.
'Fir Wave' is just the first of three shows Peel will do for Sound Unwrapped. After the album show, she's collaborating with the percussionist Beibei Wang from Manchester Collective for an improvised live performance.
"She's an amazing improviser," Peel says of Wang. "And I've never done an improvised concert before."
"We're going to see how we feel with my synthesisers and all her amazing percussion, from classical to Chinese percussion. I just want to see what comes out of it," Peel says.
Peel chose to collaborate with Wang after working on a track together and knowing she wouldn't have time to compose a full piece before the concert. Reflecting on why they will make good improvisers together, "there's a pull, almost like the dark matter in the room that we can't see is just going 'you two work together'. It's cool."
What are some of the other acts to look forward to? Helen Wallace lists off Robert Henke's show that's designed around the soundsystem; folk group The Breath, who plan to reimagine their album; and then contemporary electronic artists like Holy Other, Hinako Omori, and Moin.
Peel is most excited to see Japanese composers Midori Takada, Laura Cannell, Shiva Feshareki and Kaitlyn Aurelia Smith. For Byrne, he can't wait for sets by Manchester Collective and Rakhi Singh.
For anyone not familiar with the names programmed, Wallace says you shouldn't be intimidated. 
"They're all incredibly brilliant communicative artists. A lot of the audiences that we're going to be having are quite small. We're actually making the room for 150 people in an in-the-round configuration. That's just an incredibly intimate, intense experience that you can have."
Sound Unwrappedstarts at Kings Place in London on 19th January and runs to 2 December 2023.