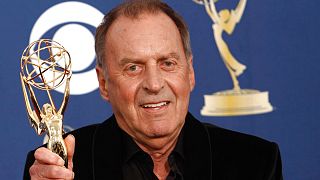 -
Copyright

Matt Sayles/AP
The multiple award winning British director Bruce Gowers has died at the age of 82. 
According to his family, the pioneering Emmy-winning director of music videos died in Santa Monica on Sunday of an acute respiratory infection.
Gowers, was perhaps most well known for Queen's iconic 1975 video, Bohemian Rhapsody, in which the band members' faces are depicted against a dark background as they sing in harmony. The video helped cement their place in history as one of the world's biggest groups. 
Other music videos he directed included the Rolling Stones' Hot Stuff, Michael Jackson' s She's Out of My League and Fleetwood Mac's Landslide.
Gowers' won several Emmy, Grammy, MTV and DGA Awards as a director and producer.
His credits also include hundreds of major television events, episodes and award shows such as The Primetime Emmy Awards, The Billboard Awards, The MTV Video Music Awards, and, for eight seasons, American Idol, for which he won the 2009 Emmy for Best Musical Variety Director.
Other award nominations included an Emmy for the same award for his work on Fleetwood Mac: The Dance.
Earlier on in his career in 1985, he was also nominated alongside the editors of The Fifth International Guinness Book of World Records for outstanding videotape editing for a limited series or a special.