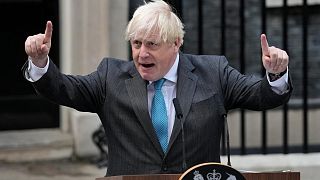 As if books published in the UK weren't **getting enough press lately**…
Former British Prime Minister Boris Johnson has struck a deal with publisher Harper Collins to write a memoir.
Arabella Pike, the publishing director at a division of Harper Collins, who has acquired the rights to the book, called it a "memoir like no other".
"I look forward to working with Boris Johnson as he writes his account of his time in office during some of the most momentous events the United Kingdom has seen in recent times," she said.
The memoir will cover his tumultuous time as prime minister and his role at the centre of one of the most dramatic periods in recent British history, including Britain's departure from the European Union, the COVID-19 pandemic, the subsequent revelations about parties which broke lockdown rules (the so-called Partygate scandal), as well as a host of scandals that plagued his time at Number 10.
No date has been set for publication of the book, which is already fueling speculation that Johnson is considering a comeback.
His previous books include a biography of his hero Sir Winston Churchill, 'The Churchill Factor', and a children's book, 'The Perils Of Pushy Parents.'
No details have been released about how much he would be paid for his memoir but Johnson has made a considerable amount of money touring the speaking circuit, making more than £1 million (approx. €1.16 million) for four speeches since leaving office in September 2022.