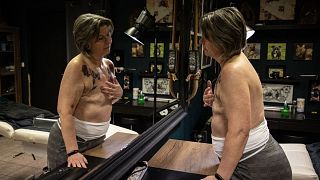 Tattoos have long been used as a form of self-expression and body art, but for breast cancer survivors who have undergone a mastectomy, they can also serve as a powerful tool for reclaiming their bodies and their sense of self.
A mastectomy can be a life-changing experience for many women. In addition to the physical and emotional toll of the surgery, many survivors struggle with feelings that their bodies are no longer their own, and that they have been robbed of their femininity and sexuality.
Tattoo.org, a new and growing Dutch foundation, is aiming to help post-mastectomy victims reclaim their bodies by offering free tattoos. 
In Lelystad, Netherlands, flowers and butterflies slowly cover up the scars left after cancer survivor Jacqueline van Schaik lost both her breasts during surgery in April 2021. She is the first to receive a free tattoo from Tittoo.org's initiative. 
"This helps me a lot in processing what has happened before. I have been under treatment for two years and have had chemotherapy, I have had surgery, I have had radiation and I have had all the side effects you can imagine of such a process," explains van Schaik. 
"Now that I have this tattoo I don't look at my scars anymore. I look at a very nice piece of art that Darryl (Tattoo artist) has placed and I am happy with myself again and I think I am beautiful again."
Jacqueline received her free tattoo from Tradtoo, a specialist tattoo shop founded by Darryl Veer, who has completed dozens of scar covering tattoos over his fifteen years of experience as a tattooist. 
"I think that's the most beautiful thing with a tattoo indeed, if you can help people with it," says Veer. 
"Normally they are seen as a fashion item and just done for fun, but this is helping someone and that makes me very proud, that makes my job very precious," he adds. 
Tittoo.org was founded in the summer of 2022 by Myriamm Scheffer, who is still recovering from her own experience with breast cancer and a double mastectomy in 2021.
"I was reading about a non profit in the United States helping women get a tattoo after breast cancer and was like - why don't we have that in Europe?! - And BOOM, here it is!" reads a statement written by Scheffer on the Tittoo.org website. 
Since the foundation's launch, Scheffer has been building a collective of European tattoo artists, such as Darryl Veer, who have experience with mastectomy and or scar tattoos. 
This year, Scheffer is planning to organise three Tittoo-tattto days, which she is hoping will expand further each year. 
Check out the video above to see Jacqueline van Schaik receiving her free tattoo.