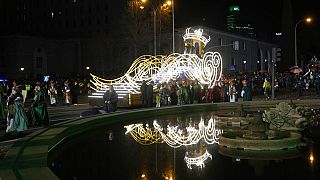 -
Copyright

Paul White/Copyright 2023 The AP. All rights reserved
Spain's traditional Three Kings paraded through Madrid's main avenue Thursday evening to the delight of children and adults who packed the streets lining the route.
Thousands of families watched the procession of mechanical puppets, decorative floats and the biblical Magi who allegedly followed a bright star to offer gifts of gold, frankincense and myrrh to the new-born baby Jesus in Bethlehem.
On this day Christmas gifts are traditionally exchanged - a massive part of the Christmas tradition in Spain and also in many Latin American countries.
During the parade, known in Spanish as 'Cabalgata', each King rides a separate float sitting on a high throne, surrounded by his courtiers who throw sweets into the crowd.
"The Three Wise Men ultimately represent those gifts that were brought to the baby Jesus when he was born and this tradition has been exported to homes. It is celebrated on January 6 in the homes of all the children of Barcelona and in Spain, they leave little gifts" said one onlooker.
Meanwhile, in Belgium a baker in Brussels has hidden real €500 gold coins in his Epiphany cakes, the "Galette des Rois" traditionally eaten on January 6th.
"It came to me just like that," said Luc De Weerdt, the owner of the De Weerdt bakery. "It's been so successful every year that I've upgraded from three coins to four coins this year". 
Despite his success, De Weerdt is suffering from the economic crisis sweeping across Europe. "It is more expensive this year" he explained, "because the butter has gone up, the flour has gone up, the almonds have gone up a lot". 
This 700-year-old tradition has two variations, typically, in northern France, the puff pastry is stuffed with a creamy almond paste called frangipane while in southern France, Galette des Rois has a brioche-like consistency and is filled with candied fruit.