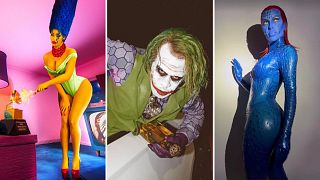 Copyright

Credit: Cardi B, Diddy and Kim Kardashian
-
This year certainly brought its fair share of unforgettable Halloween costumes from some of the world's most famous celebrities.
From Kim Kardashian's Mystique, Sean 'Diddy' Combs' unhinged Joker, to Heidi Klum's terrifyingly bizarre worm costume, let's take a look at some of the A-listers who went all out for their 2022 Halloween looks. 
Lizzo
After her iconic Baby Yoda Halloween costume last year, the 'About Damn Time' singer had a lot to live up to in 2022. 
But it's fair to say she did not disappoint with this spectacular Marge Simpson look. 
Lizzo's immense costume included full yellow make-up and Marge's signature blue hairdo, and beaded red necklace.
Cardi B
Lizzo was not the only Grammy-winner to pay homage to Marge Simpson. 
'WAP' rapper Cardi B also pulled out all the stops for her costume of the beloved animated character. 
But would it be a Cardi B costume without a sexy twist? 
In a photo posted on her Instagram, Cardi is seen wearing a tight green corset and sky-high pumps, as she dusts off one of her Grammy awards. 
In a second look, Cardi B pays homage to a series of Simpsons themed artworks created by contemporary artist aleXsandro Paloyar for Vogue in 2013. 
The artworks consisted of Marge Simpson dressed in a number of revealing and iconic dresses, such as Geri Halliwell's Union Jack dress, Diana, Princess of Wales' "revenge dress" and in this case a Thierry Mugler look from 1995.
Kim Kardashian
Kim Kardashian transformed herself into X-Men character Mystique – complete with slicked-back red hair, blue body paint, and yellow contact lenses.
Hilariously, the SKIMS founder misjudged the dress code for her Halloween party. 
"That time I showed up to a birthday dinner in full costume when it wasn't a costume party! Happy birthday to the most beautiful kind soul Tracee Ellis Ross," she captioned a photo on social media, pictured alongside Ross wearing a smart party gown. 
Elon Musk
Twitter's new owner Elon Musk dressed up in a red Samurai-style costume, as he posted pictures alongside his mother. 
The Kung-fu inspired outfit is listed online with a staggering price tag of $7,500! 
Good thing he sells a lot of Teslas, shame about his taste. This outfit is giving moody teenage boy and little else.  
Sean "Diddy" Combs
The music mogul looked unrecognisable in his costume perfectly resembling Heath Ledger's portrayal of The Joker from The Dark Knight.
Yes, that is really him behind the makeup. 
In a number of now viral videos posted on social media, Diddy can be seen terrorising the streets of Los Angeles in full Joker character, whilst running into several other stars, including Tyler, the Creator and Michael J. Ferguson. 
Paris Hilton
For this year's spooky season, Paris Hilton dressed up as her "childhood icon" Sailor Moon, the anime character created by Naoko Takeuchi. 
The Simple Life star was accompanied by her husband Carter Reum, who dressed up as Tuxedo Mask, Sailor Moon's love interest. 
Janelle Monáe
Janelle Monáe pulled off two extremely impressive looks this year for Halloween. 
She appeared as both the Diva Plavalaguna from The Fifth Element and the White Rabbit from 'Alice's Adventures in Wonderland'.
Halloween 2022 may have a winner? 
Kendall Jenner
The 26-year-old supermodel channelled Jessie from Pixar's Toy Story franchise for Halloween. 
With a more sultry take on the beloved animated character, this outfit certainly ruffled a few feathers on social media. 
Childhood ruined... or made?
Megan Fox & Machine Gun Kelly
Megan Fox and her boyfriend Machine Gun Kelly gave Lily James and Sebastian Stan, the stars of Hulu's Pam and Tommy series, a run for their money with their Halloween costume this year. 
The couple recreated Pam and Tommy's iconic looks for the Grand Opening Party of the Hard Rock Hotel & Casino in 1995. 
They also did this...
Let's quickly move on. 
Halle Bailey
The little Mermaid star and one half of the musical duo Chloe x Halle stunned her fans in this 'Avatar'-inspired costume. 
It even received a seal of approval from the official Twitter account for James Cameron's record-breaking film franchise. 
"We're happy to have you as part of our world," the tweet read. 
Sergio Ramos
Spanish professional footballer and Paris Saint-Germain superstar Sergio Ramos put maximum effort into his Pennywise-inspired clown costume, pictured alongside his partner.
Legendary centre-back by day, Halloween enthusiast by night. 
Vanessa Hudgens
High School Musical star Vanessa Hudgens channelled Natalie Portman's acclaimed role from the 2011 movie 'Black Swan', in a head-to-toe white ballerina outfit. 
But no white swan is complete without a black swan, and her close friend GG Magree filled the role. 
Heidi Klum
Last but not least we have the costume of Heidi Klum, who has become known for her elaborate Halloween costumes and dubbed by many online as 'The Queen of Halloween'. 
The 49-year old supermodel was unrecognisable as she slithered her way to her highly-anticipated Halloween party in New York, in a creepy full body worm costume, with only her eyes, nose and mouth visible. 
She was accompanied by her husband, Tom Kaulitz, who dressed as a fisherman with a bloody eye.