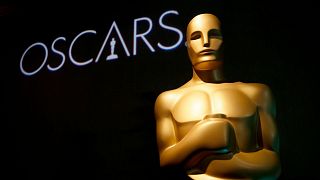 The nominations for this year's Oscars have been announced ahead of Hollywood's biggest night on 27 March.
Actors Tracee Ellis Ross and Leslie Jordan headed up this year's formalities as 'The Power of the Dog' led the pack with 12 nominations, making it one of the most nominated pictures in the Academy's history.
Sci-fi epic 'Dune' and Steven Spielberg's 'West Side Story' remake followed suit with 10 and seven nominations respectively.
Despite the presumed predictability of its frontrunners, the ceremony was not without its surprises – internet treasure Leslie Jordan's name pronunciations, for one.
Here are 7 things you should know about this year's Oscar nominations.
1. Jane Campion makes history as first two-time female 'Best Director' nominee
Jane Campion is now the first woman to be nominated a second time for Best Director.
The New Zealander was selected once in 1993 for 'The Piano' (which also went home with that year's Cannes Palme d'Or) and again in 2022 for this year's most-nominated film, 'The Power of the Dog'.
Her nomination for 'The Piano' made her the second woman ever recognised in the category. To date there are a grand total of seven.
Does this and Chloé Zhao's success with 'Nomadland' last year suggest an exciting new frontier for female filmmakers? It's hard to say just yet. Thirty years on and things have changed just enough to be noticeable.
2. A series of disappointments for the 'House of Gucci' campaign
Oscar campaigning is a wild old beast.
Those responsible for the House of Gucci's will be trawling through their own right now. What went wrong for a project so firmly formed around the tastes of a surefire Oscar triumph?
The closing months of 2021 saw an intensely quotable press run from the Ridley Scott drama. Accounts from the cast that were as chaotic as they were charming.
Lady Gaga spoke in an Italian accent for 6 months to prepare for the role. Slice Jared Leto in two and you'll find olive oil, he says. Adam Driver was...Adam Driver throughout the whole thing. Now they'll likely be asking – for what?
A film modelled on theatrics, style and excess was only able to snag one nomination, for 'Makeup & Hairstyling'.
3. But Kristen Stewart emerges un-snubbed
Last week's BAFTA nominations left a lot of people shocked as Kristen Stewart's complete transformation into Princess Diana for the darkly devastating 'Spencer' was snubbed for 'Best Actress'.
A consensus from the film's mixed reviews that Stewart's performance was the best thing about it.
The BAFTAs are no duplicates of the Oscars, but they often lay down a map for what could happen. Based on their conclusions, things weren't looking good for the aspiring first-time nominee, so much so that she trended on Twitter over the decision.
This collective worry has since been quashed as today confirmed Stewart isn't in for a double-snub.
However, Nicole Kidman's own biopic performance as Lucille Ball in 'Being The Ricardos' remains the favourite.
4. A world of success for Danish-produced 'Flee'
With nods in 'Best International Film', 'Best Animated Feature', and 'Best Documentary Feature', Danish-produced animated documentary 'Flee' is the first submission ever to secure credits in three very distinct categories.
'Flee' tells the story of Amin, a thirty-something academic who has built a life for himself in Denmark after fleeing Afghanistan alone as a young homosexual refugee.
The film was described as an "instant classic" when it debuted on the festival circuit last year.
Foreign-language features tend to be firmly confined to categories designed to highlight their 'other-ness'. It's a problem the Academy has been slow to resolve, so the likes of 'Parasite' and 'Roma' elected to do it themselves with their own Oscar successes.
'Flee' is the Oscars needs to move the process along to even greater heights.
5. Netflix's torrential affair with the Academy reaches a loving end
2022 had Netflix pegged as the first studio since 1976 to score three 'Best Picture' nominations in one year.
Though 'Don't Look Up' and 'The Power of the Dog' made the cut, 'Tick, Tick...Boom!' missed out by the skin of its teeth, landing two nominations elsewhere.
Two out of three certainly isn't bad, if you cast your mind back to half a decade ago. The Oscars were notoriously resistant to platforming, or even acknowledging the existence of streaming-based cinema.
For some time its rules actively went against the submission of said content. Now, they make up a substantial portion of almost all its categories.
Of course, these productions all have their own merits. But each has Alfonso Cuarón's 'Roma' to thank.
The Spanish-language black and white drama fell into the laps of the Academy via the streaming platform in 2019 and they couldn't resist. Ten nominations and a 'Best Picture' win later, they had no choice but to give up and commit to a new age of cinema.
6. Presumed frontrunners stormed, their companions less so
2022's Oscar frontrunners are a bold bunch. The disparity between the most and least-nominated films feels wider this year.
Four Oscar nominations would be a mean feat for any motion picture. But the credentials offered to 'Licorice Pizza', 'Don't Look Up', and 'Being The Ricardos' feel dwarfed by 'Dune' and 'The Power of the Dog' hitting double digits.
Both productions should approach the ceremony with a level of caution – films that score nominations of that gravitas can go either way on the night.
The record holders for the most Oscar nominations ended their ceremonies on very different notes.
'Titanic' managed to take home almost all of its 17 nominations, while 'La La Land', despite being an excellent musical, is more closely remembered for its accidental 'Best Picture' mix-up with 'Moonlight' in 2017.
7. Three European films selected for 'International Feature film'
Three European titles made the cut for 'Best International Feature Film' of the five selections.
'Flee', an Italian homage to footballer Diego Maradona 'The Hand of God', and the third film in Norwegian director Joachim Trier's Oslo Trilogy, 'The Worst Person in the World' came through in one of the most competitive categories out there.
Each country is only allowed to make one submission, so you're forced to choose the absolute best.
Surprise 'Best Picture' nomination and Japanese submission 'Drive My Car' is likely to eclipse them in this category, but it's good to see the breadth of the continent's filmmaking on display.
Other stray observations:
'The Worst Person In The World' landed a real nomination for Best Original Screenplay. European arthouse normally keeps to itself confined to smaller in smaller categories, but this ousted the likes of Amazon-produced 'Being The Ricardos', Wes Anderson's 'The French Dispatch', and 'Spencer'.
Dune's chances at 'Best Picture' are significantly hindered by Denis Villeneuve's omission from 'Best Director'. The winner of 'Best Director' roughly has a 2 in 3 chance of securing 'Best Picture' and only five films have ever won the title without their director also being nominated.
Ariana Grande and Kid Cudi's satirical empowerment ballad 'Just Look Up' didn't make the cut for Best Original Song, which may come as a shock to some. It's likely they won't mind too much - that award has been Billie Eilish's for two years in the making due to the song coming out early 2020 and Bond being COVID delayed.
Here are the nominees for the 94th Academy Awards in full.
Best Picture
Belfast
CODA
Don't Look Up
Drive My Car
Dune
King Richard
Licorice Pizza
Nightmare Alley
The Power of the Dog
West Side Story
Directing
Belfast - Kenneth Brannagh
Drive My Car - Ryusuke Hamaguchi
Licorice Pizza - Paul Thomas Anderson
The Power of the Dog - Jane Campion
West Side Story - Steven Spielberg
Actor in a Leading Role
Javier Barden - Being the Ricardos
Benedict Cumberbatch - The Power of the Dog
Andrew Garfield - Tick, Tick...Boom!
Will Smith - King Richard
Denzel Washington - The Tragedy of Macbeth
Actress in a Leading Role
Jessica Chastain - The Eyes of Tammy Faye
Olivia Colman - The Lost Daughter
Penélope Cruz - Parallel Mothers
Nicole Kidman - Being The Ricardos
Kristen Stewart - Spencer
Adapted Screenplay
CODA
Drive My Car
Dune
The Lost Daughter
The Power of the Dog
Original Screenplay
Belfast
Don't Look Up
King Richard
Licorice Pizza
The Worst Person In The World
Actor in a Supporting Role
Ciarán Hinds - Belfast
Troy Kotsur - CODA
Jesse Plemons - The Power of the Dog
J.K. Simmons - Being the Ricardos
Kodi Smit-McPhee - The Power of the Dog
Actress in a Supporting Role
Caitríona Balfe - Belfast
Jessie Buckley - The Lost Daughter
Ariana DeBose - West Side Story
Kirsten Dunst - Power of the Dog
Aunjanue Ellis - King Richard
Costume Design
Cruella - Jenny Bevan
Cyrano - Massimo Cantini Parrini & Jacqueline Durran
Dune - Jacqueline West & Robert Morgan
Nightmare Alley - Luis Sequira
West Side Story - Paul Tazewell
Sound
Belfast
Dune
No Time To Die
The Power of the Dog
West Side Story
Original Score
Don't Look Up
Dune
Encanto
Parallel Mothers
The Power of the Dog
Animated Short Film
Affairs of the Art
Bestia
Boxballet
Robin Robin
The Windshield Wiper
Live Action Short Film
Ala Kachuu - Take And Run
The Dress
The Long Goodbye
On My Mind
Please Hold
Film Editing
Don't Look Up
Dune
King Richard
The Power of the Dog
Tick, Tick...Boom!
Makeup and Hairstyling
Coming 2 America
Cruella
Dune
The Eyes of Tammy Faye
House of Gucci
Animated Feature Film
Encanto
Flee
Luca
The Mitchells Vs. The Machines
Raya and the Last Dragon
Original Song
Be Alive - from King Richard
Dos Oruguitas - from Encanto
Down To Joy - from Belfast
No Time To Die - from James Bond: No Time To Die
Somehow You Do - from Four Good Days
Documentary Short Subject
Audible
Lead Me Home
The Queen of Basketball
Three Songs for Benazir
When We Were Bullies
Documentary Feature
Ascension
Attica
Flee
Summer of Soul (...Or, When The Revolution Could Not Be Televised)
Writing With Fire
Visual Effects
Dune
Free Guy
No Time To Die
Shang-Chi and the Legend of the Ten Rings
Spider-Man: No Way Home
Cinematography
Dune
Nightmare Alley
The Power of the Dog
The Tragedy of Macbeth
West Side Story
Production Design
Dune
Nightmare Alley
The Power of the Dog
The Tragedy of Macbeth
West Side Story
International Feature Film
Drive My Car (Japan)
Flee (Denmark)
The Hand of God (Italy)
Lunana: A Yak in the Classroom (Bhutan)
The Worst Person in the World (Norway)
Who predicted the right films?
Over the Academy Awards' 94-year history, film fans have adopted some scarily accurate methods for establishing who will land what.
The Producer's Guild of America (PGA) has successfully predicted 22 of the 32 winners of the 'Best Picture' Oscar since its creation, making their selections a reliable indication of who will be in the running.
They correctly predicted eight of the 10 'Best Picture' nominees, omitting Guillermo del Toro's latest psychological escapade 'Nightmare Alley' and Japanese underdog 'Drive My Car' from their estimates.
But that's not all.
One prediction method that always grabs public attention lies in the hands of just one individual – Ben Zauzmer, better known as @BensOscarMath.
For the past 11 years, the statistician has used mathematics to predict each year's best contenders.
This year, his methods correctly predicted all but one – 'Drive My Car' once again cements itself as a shock nomination where 'Being The Ricardos' and 'Tick, Tick...Boom!' were favoured.
Zauzmer's predictions are so precise he has written a book about it and amassed over 16 thousand followers.
Little Monsters will be saddened that his all-important 'Best Actress' prediction for Lady Gaga's run as Patrizia Reggiani in Ridley Scott's 'House of Gucci' didn't come to fruition.
Though placing Will Smith in pole position for 'Best Actor' for his portrayal of Serena and Venus Williams' father, Richard Williams, in 'King Richard' was a wise move.