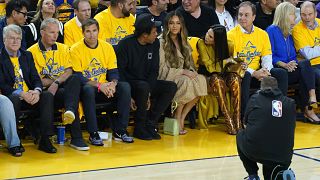 -
Copyright

Thearon W. Henderson Getty Images
By Phil Helsel with NBC News Entertainment
The wife of Golden State Warriors owner Joe Lacob has reportedly said she received death threats on social media after she was recorded speaking to hip-hop mogul Jay-Z courtside with his superstar wife Beyoncé looking on.
The clip of Curran leaning over to speak to Jay-Z at Wednesday night's NBA playoff game between the Warriors and the Toronto Raptors, with Beyoncé sitting between the two, was shared on social media.
ESPN reported that the cyber threats prompted Curran to disable her Instagram account.
Curran told ESPN reporter Ramona Shelburne that "I've never experienced cyber bullying like this. I can't believe our players go through this. That kids go through this."
Curran reportedly told Shelburne that she only asked the star couple if they wanted a drink because the Warriors invited them to the game, and that after Jay-Z said he wanted a vodka soda she leaned over to ask if he wanted a lime and did so to hear over the noise of the crowd.
"There was no hostility," Curran told Shelburne, ESPN reported. "I was trying to be a good hostess."
She also said the superstar couple have been guests of hers and the Warriors in the past without incident.
Shelburne tweeted Thursday that Curran "was in tears" because she'd been getting death threats on social media all Wednesday night, and she disabled her Instagram account to make it stop.
It wasn't clear from the report where the claimed online threats originated. Some who replied to a clip of Wednesday's in-game conversation tweeted by ESPN suggested that Beyoncé looked annoyed. Beyoncé has a devoted fan base known online as the "Beyhive."
The Raptors won Wednesday's night game, 123-109, and leads the series 2-1. The two teams play again on Friday.
There have been other occasions of cyber-bullying surrounding celebrities. "Saturday Night Live" cast member Pete Davidson late last year called out the online bullying he received by followers of his ex, Ariana Grande.