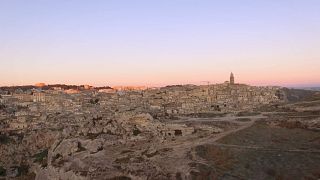 Matera has celebrating its inauguration as the European Capital of Culture 2019 with a spectacular opening weekend of performance.
The European Capital of Culture is a year-long event that celebrates diversity and culture in Europe and aims to help people discover the richness of the continent.
In Matera the opening celebrations took place across two days between January 19 and 20. During the event, marching bands from many of the Basilicata's municipalities gave extraordinary performances on the streets of the town, reviving old musical traditions on an impressive scale, with each band representing a European Capital of Culture.
Overall more than 2,000 musicians converged on the city, enjoying lunch with local residents and spectators before finishing their journey at sunset, surrounded by candelight.
Later in the evening musical performances from both national and international guests were conducted by Stefano Bollani and a greeting from the President of the Italian Republic Sergio Mattarella was followed by a firework display.
Matera: city of history
Matera is most famously known for its cave-dwelling districts known as Sassi, with narrow lanes, houses and churches all carved out of rock. The town is one of the oldest continually inhabited cities in the world and was declared a UNESCO World Heritage Site in 1993
The 2019 European Capital of Culture was a tough contest, with some 21 initial contenders. Matera was selected back in 2014 to be 2019's European City of Culture along with Plovdiv in Bulgaria.
Find out more about Matera in our latest report.