The miracle of Matera: city prepares for year of culture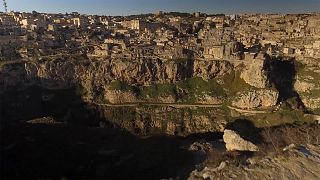 A jewel of stone in the heart of Italy's southern Basilicata region, Matera is the European Capital of Culture for 2019. In the 1950s the city was famous for its extensive cave dwelling districts, known as Sassi. Declared a UNESCO World Heritage Site in 1993, the Sassi provide a beautiful backdrop, with narrow lanes and houses and churches carved out of rock. Since its selection in 2014, those behind Matera's 2019 programme and the local community have been working to promote sociocultural projects and a spirit of co-creation.
"On the one hand we've been working on innovative content and on the other trying to understand what Europe might want from a capital of culture in Italy. Certainly something that focuses on the concept of community and the town square, something which is both very popular and innovative. We have also focused on not competing with other cities but cooperating," says Paolo Verri, the General Director of Matera-Basilicata Foundation 2019.
Cooperation forms the central theme of Matera's programme for 2019. Entitled "Open Future", organisers say they hope they can foster unity, especially at a time when the world shows signs of closing in on itself politically.
"Matera was declared a capital of hospitality even before becoming a capital of culture. It is a place where you will be able to meet the locals and they will start talking to you, they will not run away. The people of Matera are our strong point and always will be. The culture that Matera wants to share is made by everyone for everyone," Verri says.
That sense of participation and shared experience has been demonstrated in many ways. For instance the lights for the opening ceremony were assembled at workshops in Matera's schools, hospitals and old people's homes. Locals have also been rehearsing a performance of Purgatory, the second part of Dante's Divine Comedy.
But things weren't always like this. Once one of Italy's most deprived city's, less than 70 years ago, around 15,000 residents lived in the limestone caves that had been carved out during prehistoric times. In addition to no running water, electricity, natural light and ventilation, disease - notably malaria, cholera and typhoid- were rife. Verri says that history of squalor left a sense of shame in the city which is finally starting to lift.
"The older generation in the city have understood that being selected as a capital of culture is a way of changing how Matera is seen by many people, given that it was once considered the 'shame of Italy' due to the fact that people used to live in very basic conditions in the caves."
All eyes are on now set on January 19th, the day of the opening ceremony. The inauguration aims to kick off a year of activities and events which will unite the cultural passions and lifestyles of both the people of Italy and Europe.
From Materia Euronews' Marta brambilla Pisoni says: "At night Matera is like a scene from the nativity, a setting which is unique in the world. It will be centre stage in the opening ceremony on January 19th."