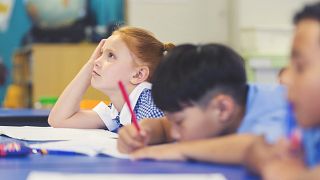 By Meghan Holohan with TODAY Health and Wellness
As the number of children diagnosed with ADHDhas climbed, parents, teachers, doctors and researchers struggle to understand why.
A study in the New England Journal of Medicine points to one surprising explanation: elementary school cut-off dates. The youngest kids in a class — those who recently turned 5 before the kindergarten enrollment cut-off date — are more likely to be diagnosed with attention deficit hyperactivity disorder than their older classmates.
Researchers were shocked to find that August babies were more likely to be treated and diagnosed with ADHD than those born in earlier months, Timothy Layton, an economist in the department of Health Care Policy at Harvard Medical School and an author of the paper, told NBC News, via email.
Layton and his colleagues examined data from 407,846 children in a U.S. insurance company database born between 2007 and 2009. The researchers looked at the children through 2015 and focused on ADHD diagnosis based on birth month and school enrollment cut-off, where children had to be 5 by September 1 to attend kindergarten. They found that children born in August, who were the youngest in the class, had higher rates of being diagnosed with ADHD than the older members of the class.
An estimated 6.1 million children, just over 9 percent, between ages of 2 and 17 in the U.S. have ever had a diagnosis of ADHD, according to the Centers for Disease Control and Prevention estimates. But a significant percentage of children may be wrongly labeled. Why would birth month make a difference?
It could be the maturity level of the child in school, compared to slightly older classmates, suggested David Anderson, senior director of the ADHD and Behavior Disorders Center and director of Programs at the Child Mind Institute.
"Some of the inattentive or distracting behaviors of ADHD could be aligned with typical behaviors of younger children," said Anderson, who was not involved in the study. "What the study is telling us is more of a verification."
University of Pittsburgh psychiatrist Kimberly Blair started her career as a school psychologist and saw how a 5-year-old and a 6-year-old acted very differently in school. She understands why teachers sometimes flag younger children as having ADHD.
"Six-year-olds are going to have a whole year of development and they are going to look more mature," Blair told TODAY. "In terms of being able to sit still and follow directions, they are going to look different."
Experts have known that developmental differences between younger children can cause people to assume an ADHD diagnosis incorrectly.
"That is something we have been looking for and guarding against," Ben Fields, a clinical child and adolescent psychologist at Nationwide Children's Hospital in Columbus, told TODAY. "We need to be careful in assessing with ADHD for all kids, particularly in younger kids."
Don't redshirt the child
That's one reason the Centers for Disease Control and Prevention recommends that clinicians offer behavior therapy for children 6.
That doesn't mean that parents should avoid treatment until a child is 6.
"I don't think the message is to delay getting an appointment," Anderson said. "If the parent says, 'He is the youngest in the class and has ADHD,' we might not start a medication but instead look at the child's overall trajectory."
Anderson also cautions against holding children with August birthdays back in school,a practice known as academic redshirting.
"We have to be wary with any study like this," Anderson said. "We don't want to decide that every kid with a July or August behavior is held back."
Fields agreed.
"Plenty of those kids who are young for kindergarten ... are fine," he said. "I wouldn't make any blanket decisions."