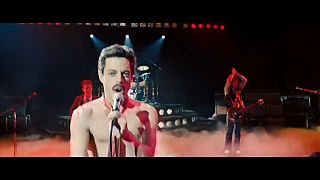 In life as in death, Queen frontman Freddie Mercury knew how to cause controversy.
Now, 26 years after his death from AIDS-related pneumonia, all eyes were on Tuesday's world premiere of biopic Bohemian Rhapsody.
Ten years in the making, it sparked controversy in May following the release of an initial trailer that was accused of downplaying the singer's sexuality.
But Queen guitarist Brian May says fans will enjoy the movie.
"They (viewers, audience) are going to love it. I know they are. We've had so many reactions already and everybody cries, in good way. They're not crying because they're unhappy, they're crying because, they cry at the happy bits I guess. But it's that kind of film. It's like Disney, you know you don't cry at the sad things, you cry when everything worked out great. There's a lot of good feelings in this film."
Filmmakers used a combination of Mercury's real voice, and lead actor Rami Malek's voice.
Rami Malek, actor playing Freddie Mercury says, "Wembley is great. I mean, it's a very inclusive place. I think the movie is all about inclusivity, not wanted to be defined by any one particular thing, not being marginalized, being exactly who you want to be".