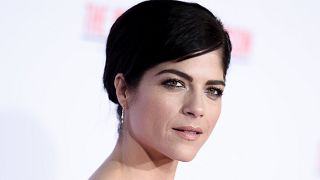 Copyright

Richard Shotwell AP
-
By Bryanna Cappadona with TODAY Health and Wellness
Selma Blair has opened up about her health, revealing on social media that she has multiple sclerosis.
The actress, 46, shared the news Saturday on Instagram, penning an emotional post about her diagnosis. She wrote that she felt empowered to speak publicly following a wardrobe fitting for her upcoming Netflix series, "Another Life."
"The brilliant costumer #Allisaswanson not only designs the pieces (my character, Harper Glass) will wear on this new #Netflix show, but she carefully gets my legs in my pants, pulls my tops over my head, buttons my coats and offers her shoulder to steady myself," Blair wrote. "I have #multiplesclerosis."
She went on to thank her close friends for their love and support, naming "Cruel Intentions" co-star Sarah Michelle Gellar and her husband Freddie Prinze Jr., as well as producer Noreen Halpern.
She also wrote that, though her diagnosis came in August, she "probably had this incurable disease for 15 years at least." According to the National Multiple Sclerosis Society, more than 2.3 million people worldwide are affected by MS, a condition where the body's immune system attacks the brain and spinal chord.
"I am in the thick of it but I hope to give some hope to others. And even to myself," the actress added in her post. "You can't get help unless you ask. It can be overwhelming in the beginning. You want to sleep. You always want to sleep. So I don't have answers. You see, I want to sleep. But I am a forthcoming person and I want my life to be full somehow. I want to play with my son again. I want to walk down the street and ride my horse. I have MS and I am ok."