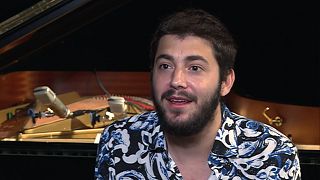 Salvador Sobral is back, being welcomed for a sellout two nights in Madrid.
His performances earned him standing ovations at the Teatro Nuevo Apolo. It was his victory for Portugal at the 2017 Eurovision Song Contest that earned him fame, but it's his talent, his humour, the sensitivity in his jazzy voice that keeps audiences wanting more. So why at the tender age of 29 is he on the comeback trail?
Sobral is on his second beating heart after a complicated transplant stalled his career. It's a new start, a European tour, and a new look. Goodbye the long hair. It looks and feels like a new beginning.
"That's what I feel now. I'm different, I turned the page, I associate long hair with my past. now, I feel fresher and lighter," he smiles.
Ricardo Figueira, euronews:
"You are here in Spain. I feel the Spanish audience loves you enormously. How do you react to that?"
Salvador Sobral:
"I love it. I also feel a bit Spanish myself. I also love them and it's good to see it's mutual. I like all Spanish regions, there's something special about each one of them."
A shy person by nature, sometimes uncomfortable with celebrity, Salvador comes alive when performing. "Mano a mano" is the first single off his second studio album, to be released later this year.
Salvador Sobral:
"I don't really enjoy making records, because playing live is what I really like. I like live action, what happens on stage. Studio work leaves me a bit snowed under, but it has to be. It's like a business card you give to the producers and the promoters... you have to sell records. So I'm embracing this project and we'll make the album in November."
2017 was a real roller-coaster year for Sobral. His Eurovision triumph was followed by several months in hospital, only saved when a donor was found and he could finally undergo a heart transplant, at the age of 28. Lady Luck giveth, and taketh away.
"This is what I had to do," he says about the heart condiiton that, along with the return home to adulation and a heavy demand for him everywhere, had weakened him severely. "It's not something you can cure and that's it. But thankfully, everything is going well. Now I can play football and do things I hadn't done in quite a while."
euronews:
"Is it good to play football again? Because I know it's one of your big passions."
Salvador Sobral:
"It's great, really great."
euronews:
"Scored any goals yet?"
Salvador Sobral:
"Sometimes I score, but I prefer to play as a defender. Not in life, just in football I play in the defence."
Salvador is known for his good humour. He never gives a concert without telling a couple of jokes. He's sincere and spontaneous; very up-front. He hopes one day he'll learn to play a real trumpet, so he can play and sing like his idol Chet Baker. In the meantime, he delights the audience with his "mouth trumpet" technique.
The tour will take him to several cities in Spain, Portugal, Germany, Poland and Switzerland. If you like a proper show, don't miss Salvador Sobral if he plays near you.