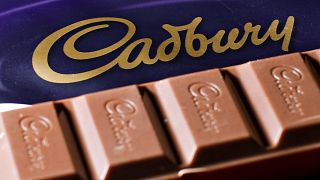 -
Copyright

LEON NEAL AFP/Getty Images
By Julia Curley with TODAY Food
Chocolate makes most everything better. So Cadbury, the beloved candy makers behind Cadbury Crème Eggs and Dairy Milk bars, is doing everything it can to make sure the world still has plenty of it come next spring.
On Tuesday, Hubert Weber, the head of Cadbury in Europe, told The Times of London that the chocolatier is stockpiling every ingredient in its delicious repertoire of sweets in preparation for the potential financial issues that may result after Brexit.
Britain is scheduled to leave the European Union next year but there's still no deal outlining how the country will separate from its longtime economic allies. If it leaves Europe without a deal (a situation experts are calling a "No-Deal Brexit") there may be a shortage of essential items, food ingredients included.
Weber promised that the confectioner will not stop churning out tasty treats next year, but said it is taking precautionary action.
"The U.K. is not self-sufficient in terms of food ingredients, so that could be a challenge," Weber said. "You can only do so much because of the shelf life of our products."
U.S.-based Mondelez International (which also makes Oreos) has owned the Cadbury brand since 2010. Founded in Birmingham in 1824, Cadbury is the third largest global chocolate producer in the world. In the U.S., Cadbury is manufactured and distributed by Hershey's so recipe in certain candies differs. Yet loyal Cadbury fans often stock up on the U.K. version, citing its superior creaminess.
Many Brexit voters who favored the break due to a common distaste for the E.U.'s trade regulations and tariffs, now fear something worse.
"Like the whole of the food and drink industry in the U.K., we would prefer a good deal that allows the free flow of products as that would have less of an impact to the UK consumer," Weber explained, while adding that the company recognizes flexible exchange won't be so easy if the U.K. breaks its E.U. ties without defined trade terms.
Last month, the government issued its first "technical notices" on how British citizens, businesses and chocolatiers should prepare for the significant shift in the event that the English pound is devalued.
"Let me assure you that, contrary to one of the wilder claims, you will still be able to enjoy a BLT after Brexit, and there are no plans to deploy the army to maintain food supplies," said Brexit secretary Dominic Raab after releasing the notice.
Like many British businesses facing next year's looming Brexit break, Cadbury says it will continuously cater to the changing times.
In 2017, the chocolate company saddened customers when it told the Guardian that it may have to shrink its beloved chocolate bars to offset rising supply chain costs.