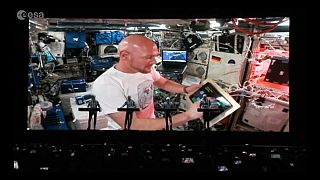 Electronic music fans were in for a treat when they went to watch Kraftwerk perform at the Jazz Festival in Stuttgart.
When they performed their 1978 song " Spacelab" a German astronaut dropped in from space, on a live feed.
ESA astronaut Alexander Gerst, says, "Good evening, Kraftwerk. Good evening Stuttgart. At this moment I am one of only six people in space, on the outpost of humanity, the International Space Station ISS."
The astronaut was 400 kilometres (250 miles) above the Earth and flying at speeds of 28,000 kilometres per hour over the Atlantic Ocean.
He was cheered by the audience as he used a tablet computer with a virtual synthesizer,
He's not the first space musician. Canadian astronaut Chris Hadfield recorded a cover of David Bowie's "Space Oddity" and played a duet with the Bare Naked Ladies whilst above the earth.