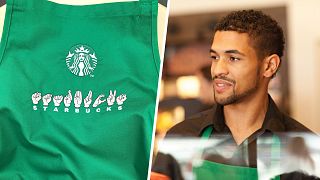 Copyright

Courtesy of Starbucks
-
By Lyn Mettler with TODAY Food
Customers won't hear their names called out when their orders are ready at one new Starbucks that is opening this fall. Instead, their orders will appear on a visual display, letting them know it's time to pick up their items.
This will be one of many features friendly to the deaf community at Starbucks' first "signing" store in the U.S. The store will open in October in Washington, D.C. near Gallaudet University, a university that focuses on the education of deaf and hard of hearing students.
The store, whose creation was led by a group of Starbucks employees who are deaf, will be modeled after a signing store in Kuala Lampur, Malaysia, which opened in 2016.
The company will hire up to 25 employees at the store including the deaf and hard of hearing, as well as hearing people who are fluent in American Sign Language (ASL). Hearing employees will wear pins that say, "I sign."
Aprons will be embroidered by a supplier who is deaf, and the store design will incorporate aspects of "DeafSpace," which considers how deaf individuals function in their environments.
This isn't the first time Starbucks has partnered with the deaf community.
In 2015, a video went viral showing a woman who was deaf signing to a barista at a drive-thru window with a barista who responded in sign language. The store in St. Augustine, Florida, is close to the Florida School for the Deaf and Blind, and uses a two-way camera system that allows customers and employees to see each other. At the time of the interaction, four of the store's employees knew ASL.
A year later, a barista at a Starbucks in Virginia learned ASL so she could communicate with one of her regular customers who was deaf, the Washington Post reported. One day, when the customer went to place his order at the register, the employee used sign language to ask what he wanted and handed him a note that read: "I've been learning [American Sign Language] just so you can have the same experience as everyone else."
And in Burlington, Vermont, a Starbucks employee organized social events with the idea of bringing together deaf, hard of hearing and hearing customers over coffee. The company awarded him with a Spirit of Starbucks award.