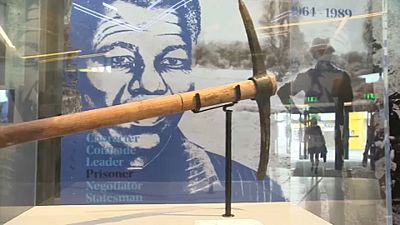 Celebrating the centenary of Nelson Mandela's birth.
That's the aim of an exhibition in London.
The Duke and Duchess of Sussex were at the opening at the Southbank Centre where they met with Mandela's grand-daughter seen here in the red head scarf.
The exhibition explores the life and times of the former President of South Africa and his 27 years in prison. Some of the exhibits are from the Apartheid Museum in Johannesburg.
The Apartheid Museum Johannesburg Director, Christoper Till says, "The exhibition is more than that. It's not only to tell the life and times of Nelson Mandela but it's really to make sure that what he stood for, the principles that he stood for, what he brought to South Africa which was divided and racist, is current today."
It's the first time the exhibition is in London after travelling to other parts of the world already.
London played a key role in South Africa's history.
It was home to the headquarters of the international anti-apartheid struggle.
The Nelson Mandela Centenary Exhibition can be seen until the 19 of August.