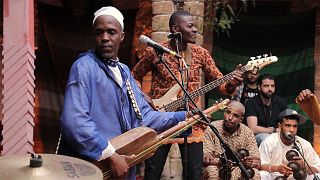 The 21st annual Gnaoua World Music Festival has again taken place in the otherwise sleepy fishing port of Essaouira on Morocco's Atlantic coast, attracting almost half a million visitors to the North African country's biggest summer festival.
Gnaoua is a North African repertoire of ancient African spiritual religious songs and rhythms considered by many to be the roots of jazz, blues, R&B and rock music.
The Gnaoua bands are driven by their ritual poetry with traditional music and dancing, and are led by a Maâhlem, a master musician.
Apart from traditional songs, music and dance, the festival provides a melting pot between foreign artists and the mystical Gnaoua musicians. In recent years the festival has been fused together with other popular genres including jazz, blues, reggae and hip-hop. Many iconic musicians spanning Jimmy Hendrix and Bob Marley to Robert Plant and Jimmy Page are said to have been influenced by it.
Euronews journalist Wolfgang Spindler explains that the festival is not just a line-up of music bands, as musicians from around the world are invited to rehearse with a Maâhlem to get into the Gnaoua groove. "_When they perform on stage, the audience can discover a music mix they have never heard before,_" he said.
Mystical Gnaoua musicians from across the country celebrated their centuries' old musical traditions with their hypnotic singing and acrobatic dance moves in a melting pot of musical fusion. Its songs and rhythms are a mixture of Islamic Sufist and pre-Islamic African music and are intended to send its listeners into a trance. For centuries many Moroccans have considered Gnaoua music capable of treating psychological disorders.
The name "Gnaoua" is derived from the West African state of Guinea and some of the stories told through it songs relate to slavery. Those songs were handed down from black Africans who were once enslaved in Morocco but who have since been integrated into the North African's country's society and culture.
CROSS-CULTURAL COLLABORATIONS
American jazz fusion band Snarky Puppy, who are three times Grammy award-winners, and Maâhlem Hamid El Kasri, who has been into the Gnaoua culture since he was seven and is considered to be one of the best, performed together on stage in just one of many cross-cultural collaborations at this year's festival.
Michael League, Snarky Puppy's bass player and band leader, said the musical collaboration was an exciting experience for the whole band. "_Oh my God, man, he taught all of us a lot, you know everyone in the band …their heads are Gnaoui, you know – learning, growing from this experience, it has been really beautiful,_" he told Euronews.
The "Benin International Musical", a collective of Beninese artists from the West African state of Benin, who mix voodoo rhythms and traditional songs with modern elements like hip hop, electro, rap and rock, played with young Moroccan Gnaoua maestro Hassan Boussou.
"We have a lot of common points: The dance, the dialogue between the instruments and the dancers, the steps, the singing - in fact we Gnaoui do it the same way," Maâhlem Hassan Boussou told Euronews,
SENSATIONAL SPANIARD
Pepe Bao, an outstanding bass guitar player from Seville in Spain, also took part in the festival. The sensational Spaniard played alongside Maâhlem Abdelslam Alikané, who is the festival's artistic director and also one of its co-founders.
FEMALE FIRST AT FESTIVAL
For the first time the festival had a female Gnaoua musician on stage, playing the lead instrument, the Guimberi. The Gnaoua rituals are usually organized and hosted by women, but men play the key role for the music, singing and dancing parts.
"My father is a Maâhlem, it's him who brought me in. I started with the Krakebs (iron castanets), they gave me the strength and then I started to play the Guimberi, that's why it's easy for me," said Asmâa Hamzaoui.
Fatoumata Diawara from Mali played with the Gnaoua musician. "_It's a real honour for me, this is my place, I feel at home - Being in Morocco, it's like coming home - the music connects and harmonises everything – it's all about getting connected,_" she said.
OPENING THE WAY FOR NEW GENERATIONS
"We opened the stages for a new generation of Maâhlems - we invited Gnaoua musicians from various regions of Morocco. We want to give this music a bright future, with more intensity and strength. This festival is a real melting pot for music and a bridge of cultural dialogue," said the festival's director Neila Tazi.