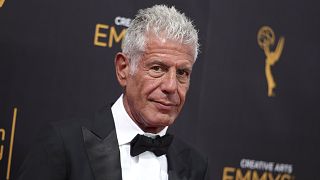 Copyright

Richard Shotwell AP
-
By Scott Stump with TODAY Food
Anthony Bourdain's mother remembered her son as "feisty and very talented" as she mourned the death of the beloved chef, author and television personality.
Gladys Bourdain, a former editor at The New York Times, told NBC News she last heard from her son in an email on Mother's Day. To her, there was no sign that anything was wrong.
"Not a one, ever,'' Bourdain said in a phone interview.
Bourdain died by suicide at 61 on Friday. He was found unresponsive by fellow chef Eric Ripert in his room at the Le Chambard hotel in Kaysersberg, France, where the two were filming an episode of Bourdain's CNN show "Parts Unknown."
Bourdain's younger brother, Christopher, broke the news to Gladys. She remembered her son as "a lover of people of all kinds" who came across on television as the same person he was in everyday life.
"He didn't disguise anything or take on any act of persona,'' she said. "He was who he was, and it was out there for everyone to see."
Ripert called him "a dear friend" and "an exceptional human being" in a statement to TODAY.
In the wake of the tragedy, tributes have poured in, from fellow chefs and celebrities to workers at Bourdain's favorite Manhattan deli.
The "Kitchen Confidential" author had talked openly in the past about his struggles with drugs and depression.
"There was some dark genie inside me that I very much hesitate to call a disease that led me to dope,'' he told NBC Nightly News in 2014.
His mother recalled that he was a precocious child who had a love of reading from a young age.
"He always had talent, and he always had an incredible vocabulary,'' she said.
She also played a pivotal role in fostering her son's love of cooking.
"The thing is he came back from his first summer in Provincetown as a dishwasher, and then one of the cooks burned himself or cut himself so badly he had to stop work and Tony, who had been just observing, filled in,'' she said.
"And when he came back at the end of that summer, we talked about it and since he had so little interest in his college career. I suggested the Culinary Institute and that's how it all started."
If you or someone you know is considering suicide, please contact the National Suicide Prevention Lifeline at 1-800-273-TALK.