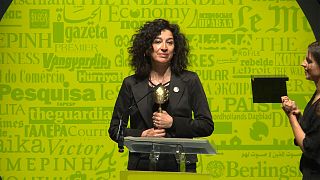 Every picture tells a story and at this year's World Press Cartoon event in Portugal, for the first time in 13 years of competition, a woman won the coveted Grand Prix award.
It was with tears in her eyes that Italian cartoonist Nardi took to the stage to accept the prize and express her thanks. Her cartoon, about freedom of expression, competed in the Editorial category.
Top honours for a female have been a long time coming but the prize was awarded strictly on merit as World Press Cartoon Director António Antunes explained.
"We have always had women in the jury, women always participated," he said.
"It had to do with the great quality of the winning cartoonist."
The 2018 awards were also marked by the opening of the World Press Cartoon competition to work produced for online publications.
"Many newspapers have literally disappeared, stopped publishing. Others have reduced the space dedicated to caricature, to editorial design," Nardi told 'Cult' reporter Dulce Dias.
"It is not a problem of censorship: it's worse. It is a cultural problem. The tradition of caricature, of editorial design, is being lost. The Internet is great because you can work with the whole world. The problem is that when you publish drawings on the Internet you are not always paid."
This year's exhibition is dominated by Donald Trump, with Kim Jong-un and Vladimir Putin also putting in an appearance!
The Trump trend started last year. Organisers are not surprised.
"Trump monopolises world political life. So, it's related," Antunes said.
"Trump, whether positive or negative - whatever he says, whatever he is about to do, or whatever he's done the day before. Every day, Trump is in the news!"
Inevitably then, the Caricature Prize went to a picture of Trump, signed by the Belgian cartoonist O-Sekoer.
"I feel good when I can make a design, when I can make a cartoon, when I can make a caricature, than I can feel I can do my own expression," he said.
"And free expression is very important for a cartoonist, all over the world."
Another innovation was the awarding of a Career Prize, to Portuguese cartoonist Augusto Cid for over half a century of drawings.
The winner of the Gag Cartoon category was the Serbian Ub!, with an untitled drawing.
Among the cartoons that marked the last year, drawings were influenced by the Weinstein scandal, the Syrian war and migrant crisis, the ever-present problem of climate change and Catalan independence aspirations.
"World Press Cartoon 2018 is 281 cartoons on three floors at the Cultural and Congress Centre in Caldas da Raínha until 28 July," Dulce Dias said.